Former library director remembered
1/10/2014, 5:24 p.m.
DeKalb Public Library workers are remembering the contributions of former Director Barbara Loar who died on Dec. 22, 2013.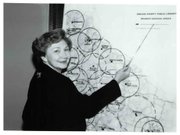 Loar, who spent 20 years from 1971 to 1991 at the library, guided the system through a period of unparalleled growth and progress.
She died at her home in Embry Hills. She was 87.
She served as director and assistant director and was known for her "innovative leadership and daring ideas," a statement at www.DeKalbLibrary.org said.
Loar led the campaign for passage of a $29 million bond issue in 1987 to renovate and expand the main Decatur Library and to build 11 new branches, and she transformed the underused Scottdale-Tobie Grant Library into a homework center for at-risk kids. She also led an initiative for greater use of the national library symbol on traffic signs to provide greater visibility.
A Dec. 30 reception honoring her life was held at the Northlake-Barbara Loar Library, which was named in her honor in 1997. In 2006, the board of trustees gave her the honorary title of director emeritus.