Frigid weather disrupts schools, everyday life
1/10/2014, 5:39 p.m.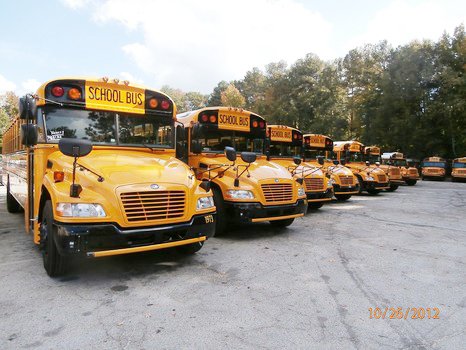 The start of DeKalb's new school semester was delayed by a day this week because of the effects of the "polar vortex" that dumped The start of DeKalb's new school semester was delayed by a day this week because of the effects of the "polar vortex" that visited ice and low temperatures on more than 85 percent of the country.ice and low temperatures on more than 85 percent of the country.
In metro Atlanta, temperatures plunged to 6 degrees on Jan. 7, the first day of classes for 2014 in DeKalb County, causing School Superintendent Michael Thurmond to cancel classes, after-school programs and extracurricular activities. He also closed district administrative offices for the day.
Tuesday's temperature was the lowest metro Atlanta has seen on that date in about 18 years. The wind chill made it feel as low as minus 13 in metro Atlanta and as low as minus 30 in some isolated parts of North Georgia.
Nationally, the bone-chilling cold, snow and ice affected about 200 million people, grounded thousands of flights, stranded workers, and burst pipes from the Midwest to the Southeast. Experts say the polar vortex caused the biggest economic disruption by the weather since Superstorm Sandy in 2012. Its economic cost is estimated at $5 billion.
DeKalb Schools reopened the next day on Jan 8.
The district said it closed "to protect the health and well-being of students and staff" because of the potential risks associated with frostbite and hypothermia.
Several other metro school systems, including Atlanta Public Schools, Cobb County, Forsyth County and Coweta County, also closed on Tuesday,
DeKalb Schools said it consulted with the National Weather Service and the county's health director, Dr. Sandra Ford, before deciding to close for the day.
Ford said that as wind speeds increase, heat is carried away from the body faster, which lowers skin temperature, increasing risk for frostbite and hypothermia.
"In extreme cold, children need hats, gloves, coats, and even face coverings, as well as appropriate shoes and socks to protect those areas at greatest risk for damage from exposure: fingers, toes, earlobes, and the tip of the nose," she said.
The frigid weather slowed MARTA trains and caused delayed opening of county governments and some businesses, broke water mains and residential pipes, and hampered the operation of cars.
Looking ahead to future weather emergencies, DeKalb interim CEO Lee May and DeKalb Emergency Management Agency officials are encouraging all residents and stakeholders to sign up for the county's high-speed notification system, CodeRED.
The emergency notification system has the ability to quickly deliver time-sensitive messages via voice, email and text to targeted areas or the county during emergency situations or disasters.
"If we need to notify the public about public safety hazards such as weather, CodeRED is one of the tools we will use to reach people directly," May said.
To sign up for CodeRED, residents and businesses should visit www.dekalbcountyga.gov and follow the link to the CodeRED Community Notification Enrollment page. Those without Internet access should call DeKalb Emergency Management at 770-270-0413 Monday-Friday from 8 a.m. to 5 p.m. to register via phone.
Required information includes first and last name, physical street address, and primary phone number. To receive weather warnings, subscribers should be sure to select the Severe Weather Warning link.
Businesses are encouraged to register for CodeRED as well as all individuals who have unlisted phone numbers, who have changed their phone number or address within the past year, and those who use a cellular phone or VoIP phone as their primary number.