Fulton Commission honors civil rights legend C.T. Vivian
1/10/2014, 6 a.m.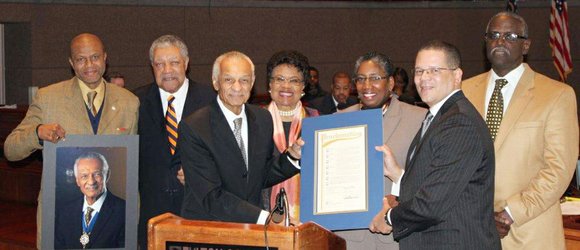 Civil rights icon the Rev. Dr. C.T. Vivian was honored for his decades of service to human rights by the Fulton County Commission on Jan. 8.
John Eaves, commission chairman, and fellow commissioners presented Vivian with a proclamation recognizing Wednesday as "Dr. C.T. Vivian Appreciation Day."
Eaves said they were acknowledging Vivian for his decades of service to the community and nation on behalf of those fighting for freedom and social justice.
"We are proud to call Dr. Vivian not just an American hero, but also one of our neighbors here in Fulton County," Eaves said.
Vivian, 89, was honored by President Barack Obama on Nov. 20 with the Presidential Medal of Freedom, the nation's highest civilian honor.
Cordy Tindell "C.T." Vivian is a minister and author, and he was a close ally of Dr. Martin Luther King Jr. He participated in the Freedom Rides and took part in his first sit-in, which successfully integrated Barton's cafeteria in Peoria, Ill., in 1947 after graduating from Western Illinois University.
He helped start several human rights organizations including the National Anti-Klan Network and the Center for Democratic Renewal. He also has served as president of the Southern Christian Leadership Conference.
Vivian was born in Howard, Mo., on July 30, 1924, and moved with his mother to Macomb, Ill., as a child. He went on to graduate from Western Illinois and worked as a sports editor on the university's newspaper.
In 1960, Vivian became part of King's executive staff at the Southern Christian Leadership Conference in Atlanta – a group he now leads as interim president.
By 1961, he was a pastor and editor of a Baptist Sunday school publication. That year he became one of the first Freedom Riders to travel by bus from Nashville, Tenn., to Jackson, Miss., where he was arrested and beaten.
Four years later in 1965, he gained international notice during a confrontation in front of a Selma, Ala., courthouse when Sheriff Jim Clark blocked civil rights activists' attempts to register to vote.
Vivian, who was struck and bloodied, did not back down, telling Clark: "If we're wrong, why don't you arrest us?"