Proposed city of Stonecrest lacks revenues to support itself
Ken Watts | 1/10/2014, 6:10 a.m.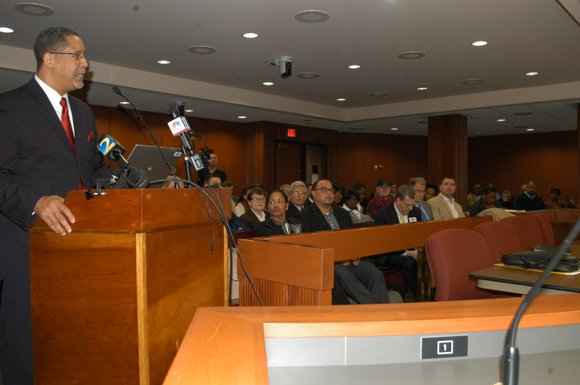 The proposed city of Stonecrest has been put on hold after a crucial feasibility study finds that it is not viable.
Jason Lary, president of the Stonecrest City Alliance, told members of the DeKalb Delegation on Jan. 9 that the University of Georgia's Carl Vinson Institute of Government said its proposed city lacks the revenues to operate a city.
The institute said the proposed 60-square-mile city needs $45.4 million annually to operate but would only generate $31 million.
"Either we would have to significantly raise taxes in this particular corridor or our revenue would have to be dramatically increased by property value – residential, commercial or industrial. Neither is going to happen immediately," Lary said.
Lary was one of four leaders from proposed cities who presented to the House and Senate representatives at the State Capitol. Legislators also heard from organizers from Briarcliff, Lakeside and Tucker, who all received favorable reports from the institute.
Howard Mosby, the delegation's chairman, said the Stonecrest city's $15 million shortfall is problematic.
"That's a gigantic gap," he said Thursday after the hearing.
The 2014 legislative session begins on Jan. 13.
Mosby said that the delegation plans to hold a public hearing in the community to hear from residents.
"We are shooting for the week of Jan. 20," he said. "Our intention is to hear from our citizens and the county before we sit down with a committee."

The Stonecrest Alliance's 59-page study also said that based on 911 calls made in the area, the proposed city received 75,729 calls and would need a large police force to handle the volume.
South DeKalb community activists who've opposed cityhood said the rejection of the Stonecrest proposal underscores the economic inequality in the county.
Willie Pringle, who lives in Decatur, said that it is time to think of the entire county.
"We need to step back and take a look at how taking resources out of the county and putting them into these cities is affecting us, our schools and our children," he said.
Joel Edwards, vice president of the Kings Ridge Neighborhood Association, said all cityhood proposals have to face the same harsh reality.

"Any city has to have a commercial base that can help offset residential property taxes and we just don't have it in South DeKalb."

Viola Davis, president of the Unhappy Taxpayer Voter Organization, said personal incomes have been falling in South DeKalb for years.
"I'm not surprised by the CVI's decision considering the drop in taxable income, falling property values and lack of economic development," she said.
But Lary told the delegation that the area's lack of a county commissioner stands in the way of its quest for cityhood. District 5 Commissioner Lee May is serving as DeKalb's interim CEO while CEO Burrell Ellis is awaiting trial on corruption charges.
No one was named to replace him as the district's commissioner.
"We're in this fix because of our representation or lack thereof," he said. "We have no one to blame but ourselves. Our problems have built up over the years."