Science fair needs judges
1/10/2014, 6 a.m.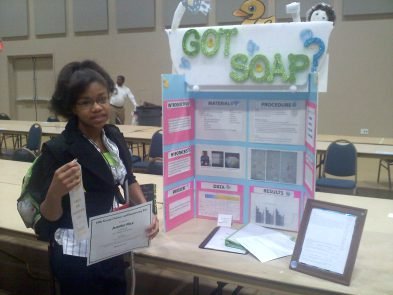 About 300 students across DeKalb have been laboring for months over science projects they are entering into the 2014 DeKalb Regional Science and Engineering Fair, and judges, sponsors and donations are needed to support them.
The DeKalb School System is seeking individuals with expertise in science, mathematics and/or engineering to serve as judges at the Junior and Senior Division Fair – for grades six to eight and nine through 12 – on Feb. 8.
The competition takes place from 9 a.m. to 12:30 p.m. at Arabia Mountain High School, 6610 Browns Mill Road in Lithonia. The public can view the projects between 9:15 and 9:45 a.m.
At least 120 volunteer judges are needed for the regional finals. Those selected will receive a $75 honorarium. The registration form can be found at http://fc.dekalb.k12.ga.us/~science
_web. Interested parties are asked to apply by Jan. 31.
Students from county, private, home and parochial schools will compete in categories like Animal Sciences; Behavioral and Social Sciences; Biochemistry; Cellular and Molecular Biology; Chemistry; Computer Science; Earth Science; Energy and Transportation, Engineering, Environmental Sciences, Mathematical Sciences, Medicine and Health, Microbiology, Physics and Astronomy, and Plant Sciences.
The annual science fair provides a platform for students to showcase their projects and collaborate with other scientifically minded students.
The Novice Division Fair for grades three to five will be held at Arabia Mountain on Feb. 7, and the public is invited to view the projects from 4:30 to 5 p.m.
The fair also is accepting donations and sponsorships for 350 gift bags that organizers are preparing for competitors. All donations are needed by Jan. 27.
Donated items can include tickets/vouchers for the Atlanta Botanical Garden, Georgia Aquarium, Six Flags, Stone Mountain Park, Atlanta Braves, Falcons, and Hawks; acting, art, cooking, swimming, tennis and golf lessons; athletic gear; cameras and flashlights; dental kits; and duffel bags.
An awards ceremony will be held on Feb. 10 at 6:30 p.m. in the auditorium of the DeKalb School District's Administrative and Instructional Complex, 1701 Mountain Industrial Blvd. in Stone Mountain, where winners and runner-ups in each category will be announced.
Regional winners will represent DeKalb County at the March 27-29 Georgia Regional Science and Engineering Fair.

For more information, contact deneen_p_mcbean-warner@fc.dekalb.k12.ga.us or call 678-676-0148.