May names Fullum new DeKalb Fire Chief
Ken Watts | 1/13/2014, 2:15 p.m.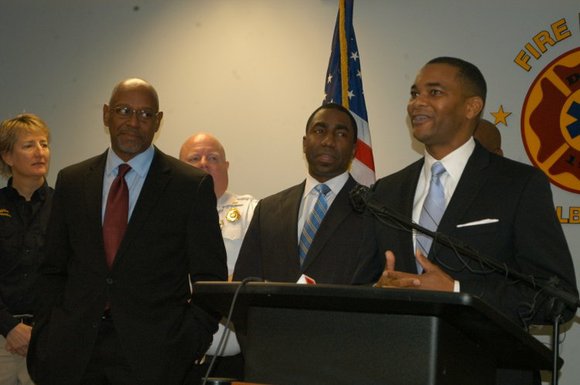 Darnell Fullum, a 26-year veteran of the Fulton County Fire Department, is the new chief of DeKalb County Fire Rescue, Interim CEO Lee May announced Monday.
Introducing Fullum at a news conference at Fire Rescue Headquarters in Tucker, May praised Fullum as a candidate who came highly recommended with "sterling credentials" for the job. Fullum had worked his entire career with Fulton County serving as Deputy Chief after holding several key jobs within that department including firefighter, lieutenant, captain, chief trainer, chief fire marshal and battalion chief. Fullum holds bachelors and masters degrees in management and leadership from Shorter University.
"He came through the ranks, holding just about every leadership position possible," May said. "He's prepared himself academically and through leadership opportunities and he's shown himself to be ready to lead this fire department into the future."
"His commitment will play a significant role in the future of this county," Deputy Chief Operating Officer for Public Safety Cedric Alexander added.
DeKalb has been without a permament fire chief since Nov. 1 when former Chief Eddie O'Brien retired.
DeKalb officials began a national search for a new chief in August with a field of 110 candidates deemed highly qualified for the job. A panel of subject matter experts from surrounding jurisdictions reviewed those, a mayor from a city in DeKalb County and a representative from DeKalb County Board of Commissioners. The panel referred the top candidates to Interim CEO May who selected the two finalists, Fullum and Gary, Indiana Fire Chief Teresa Everett.
May gave the public a chance to size up the candidates in a debate-style job interview carried on DCTV, DeKalb's cable channel. Firefighters and residents had a chance to submit questions for both candidates.
"It was a quality process. Obviously, I'm happy with the outcome. I want to hit the ground running," Fullum told reporters. "This is a great opportunity and a great department. I see myself in this role for the next ten years."
Fullum said one of his first priorities will be establishing a succession plan to build up in-house management talent. so the county won't have to go outside the department to find future chiefs. And I want to conduct a top to bottom evaluation to develop a strategy for moving the department forward," he said.
Fullum, 49, said his wife Kim and 12-year old son Cameron are excited about the move to DeKalb and are well acquainted with the county through their membership at New Life Church on Flat Shoals Parkway in Decatur.
May said Fullum will take over his new post in about 30 days.