Busts, statues of King erected at sites around U.S., world
1/17/2014, 6:19 p.m.
As the nation observes the 85th birthday commemoration of Dr. Martin Luther King Jr. on Jan. 20, state Rep. Tyrone Brooks of Atlanta has filed legislation to honor the civil rights icon with a statue at the Georgia State Capitol.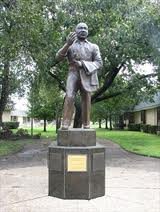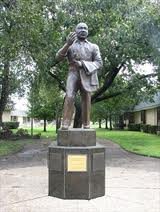 If Brooks' effort proves successful, the Georgia Legislature would be in good company.
Here are a few of the cities nationally and internationally that have honored King with statues:
n July 3, 1976: The Martin Luther King Jr. Community Center in Dallas, Texas, dedicated its King statue as part of the U.S. Bicentennial Celebration. More than 4,000 people attended the event.
n Jan. 16, 1986: A bronze bust of King by artist John Wilson was unveiled by his wife, Coretta Scott King, in the U.S. Capitol Rotunda before more than 1,000 people leading up to the first observance of the new national holiday honoring King.
n 1989: A bronze life-size statue of King by sculptor Abbe Godwin was installed in the King Memorial Gardens in Raleigh, N.C. It is believed to be the only statue depicting King in his doctorate clerical robe. The site is the first public park in America solely dedicated to the memory of King and the historic civil rights movement.
n 1994: A bust of King by Wilbur Lee Map was erected on the southeast corner of South Elm Street and Martin Luther King Jr. Drive in Greensboro, N.C. King was scheduled to speak at the AME Zion Church in Greensboro, a few blocks from the statue, on April 4, 1968. He canceled his visit to remain in Memphis, Tenn., where he was assassinated on that day on the balcony of the Lorraine Motel.
n July 1998: Westminster Abbey in London unveiled a statue of King by sculptor Tim Crawley. It stands above the west entrance to the abbey with nine other Christian martyrs of the 20th century.
n Jan. 17, 2004: A bronze statue of King by Paul di Pasquale was unveiled in Hopewell, Va. It commemorates King's historic civil rights visit to the Hopewell courthouse on March 29, 1962.
n Jan. 15, 2009: Madame Tussauds Wax Museum in New York unveiled a statue of King in wax.