DeKalb police snag millions in drugs, cash in 2013
Ken Watts | 1/17/2014, 3:39 p.m.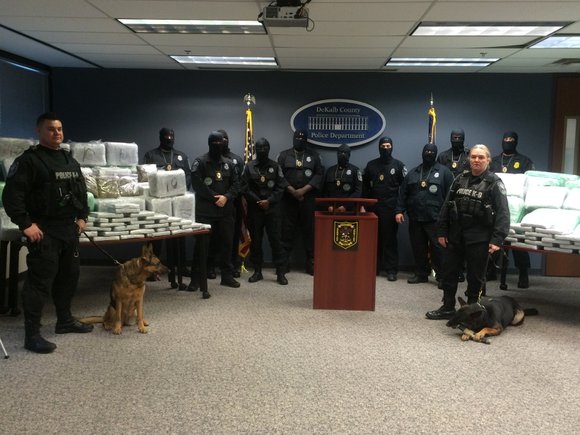 Last year, DeKalb narcotics officers confiscated more than $128 million in drugs and seized $3.4 million in cash.
The confiscated marijuana, other drugs and stacks of cash were unveiled Jan. 10 by Public Safety Chief Operating Officer Cedric Alexander at DeKalb Police Headquarters in Tucker.
Alexander, surrounded by masked undercover narcotics officers, drug-sniffing dogs and detectives, said the Police Department also arrested nearly 1,000 people in connection with drug activity.
"We in no way are concluding that we have won this war, but we are in this fight, we're going to stay in this fight and do everything we can to keep this county safe," Alexander said.
The drug haul included 302 kilograms of meth, 565 kilograms of powder cocaine, 6,000 pounds of marijuana, and 1 kilogram of crack cocaine.
Alexander said curtailing the drug traffic could help reduce other types of crime.
"We know drugs contribute to burglary and violent crimes," he said. "A few days ago you may recall we reported some reduction in crime – both in violent and property crime."
Detectives said smugglers will go to extraordinary lengths to conceal their illicit cargo.
Some carry drugs in hollowed-out dashboards or floorboards in their vehicles where they can hide up to 100 kilograms of drugs, cash or guns without being spotted immediately.
Detective R.E. Viar said the drug dealers are creative.
"Any place you can think of in a car, they can build something to conceal something in. They're pretty sophisticated," he said.
Alexander said the DeKalb Police Department is working with state and federal investigators to put pressure on cartels that are targeting Atlanta as a hub to move narcotics to other parts of the country.