Lawmaker to speak at Drum Major event
1/17/2014, 6:30 p.m.
State Rep. Alisha Thomas Morgan will deliver the keynote address at New Bethel AME's 13th annual Dr. Martin Luther King Jr. Drum Major Award Celebration on Jan. 20.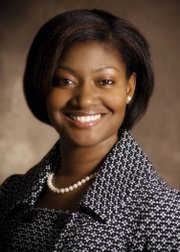 Morgan represents House District 39.
The program, which is free and open to the public, begins at 2 p.m. Its theme is "Continuing the Dream: The Fight for Justice."
The Drum Major Award will be presented to Stephen Green, national youth and college director for the Empowerment Movement. The New Bethel Pillar of Strength goes to the Rev. Jonathan and Michele Williams for their many years of service to the church.
Crystal A. Nurse, leader of the Youth Liturgical Dance Group, will get the Ruby Bridges Dreamer Award, and the Community Service Award will go to DeKalb School Superintendent Michael Thurmond. Special recognition will be given to educators who are members of New Bethel, and the Shiloh High School Concert Choir will perform.
The celebration acknowledges the life and work of King and recognizes unsung foot soldiers in the community who continue to carry the torch and fulfill the dream.

The church is at 8350 Rockbridge Road in Lithonia. For more information, visit www.newbethelame.org or call 770-484-3350.