Suspended CEO, district attorney headed to court on Jan. 23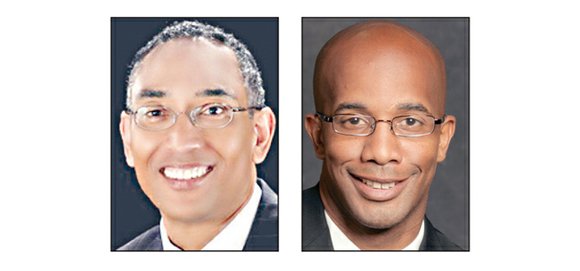 Suspended DeKalb CEO Burrell Ellis will face off in court with DeKalb District Attorney Robert James on Jan. 23.
DeKalb Superior Court Judge Courtney Johnson will hear motions by Ellis to quash the indictment against him or disqualify James' office from prosecuting him and appoint a special prosecutor.
Ellis has accused James of "numerous gross abuses of power and individual rights" and said he illegally taped him and has withheld the recordings from his defense team.
Ellis, who was indicted by a DeKalb grand jury on June 18 last year on 15 counts of extortion, theft by taking and conspiracy related to his alleged strong-arming of county vendors for contributions to his re-election campaign, was removed from office by Gov. Nathan Deal on July 16 pending the outcome of his trial.
Lee May, the District 5 commissioner and presiding officer of the Board of Commissioners, was appointed interim CEO and sworn into office on July 16.
Since then, Ellis' legal team has filed a flurry of motions that prevented the case from going to trial.
In the latest motions filed Jan. 9, Ellis said the county "is being dominated by a prosecutor on an unrestrained witch hunt, the goal of which has been Mr. Ellis' permanent removal from office, and who, in his zeal to destroy CEO Ellis, has committed criminal acts."
"District Attorney James wanted to increase his reputation and political prospects by bringing down CEO Ellis and wanted to assist his friend and political ally, the DeKalb County Commission Chairman Lee N. May, in the process."
The motion filed by Ellis' four-member legal team said that James was aided and abetted by May, who used $150,000 of county funds to purchase wiretap and provide names of people who he thought would make allegations against Ellis.
In the state's July 13 response to the motion, Senior Assistant District Attorney Christopher Timmons said Ellis has continued "his shotgun approach" and asked the court to deny the motions because his argument is procedurally improper.
Timmons said Ellis "is procedurally barred" from challenging the indictment because it was not obtained using the recordings.
"The Sixth Amendment right to counsel does not attach until after the initiation of adversary judicial criminal proceedings," the state's response said.
In his response, James said Ellis' subpoenas can be "reasonably construed to be harassing and retaliatory as they are aimed predominately and personally" at him.
"The baseless allegations and blatant falsehoods contained in various defense motions and pleadings display a hostility and personal animosity toward opposing counsel and has no place in a professional litigant's discourse, and has now taken a more scurrilous turn – abuse of the subpoena power of the court. Defendant seeks to use the force of the court's subpoenas power as a media strategy, and to deflect attention from the very serious criminal charges leveled against him."