On King holiday, Deal pledges support for MLK memorial
Ken Watts | 1/20/2014, 6:57 p.m.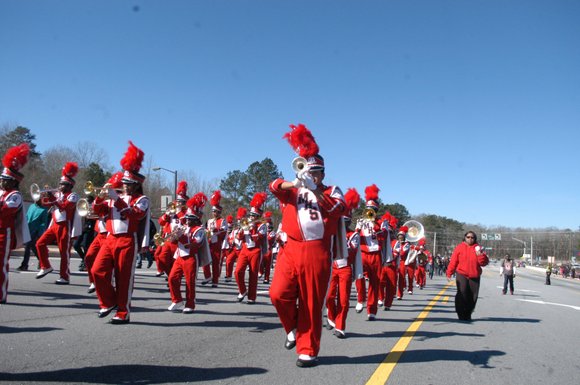 On the national holiday honoring Dr. Martin Luther King, Jr. Gov. Nathan Deal Monday pledged his support for placing a memorial to the slain civil rights icon at the Georgia State Capitol building.
It was Deal's first public response to calls by civil rights activists for the state to erect a King statue in the space formerly occupied by a monument of Georgia segregationist Tom Watson. Deal made the remarks in a speech at the annual Ecumenical Service at Ebenezer Baptist Church where King served as co-pastor with his father, Martin Luther King, Sr.
"He was a man of God, and he was a man of action," Deal said of King. "He inspired a nation through both his words and his walk, while donning the garments of non-violence and justice in place of a weapon. As we celebrate his legacy, we must admire the audacity of a man who risked and ultimately lost his life, because he would rather sacrifice it, than sacrifice his dream."
Deal praised King for setting an example of courage for all Georgians.
"I think it's time for Georgia's leaders to follow in Dr. King's footsteps and take action too. Not many states can boast a native son who has merited a national holiday. But we Georgians can. Dr. King lived during a time when the law required discrimination against some of our citizens. That's why, working with the General Assembly in this 2014 session, I'm committed to finding an appropriate way to honor Dr. King on Capitol Hill," Deal said.
Last week, former SCLC President Dr. Joseph Lowery and other civil rights leader recommended a spot directly in front of the capitol's west entrance facing Washington Street. State rep. Tyrone Brooks said any site along that side of the Capitol would be appropriate.
Brooks introduced a King statue bill, HB 706, without fanfare on Dec. 12 and is the only signer.
"We take the legacy of Dr. Martin Luther King, Jr. for granted, and I think we should recognize him on the grounds of the Capitol, in the city where he was born just five blocks away," Brooks said.
King is now honored at the Capitol with a portrait that has hung in various locations on the second floor. Then-Gov. Jimmy Carter brought in the first King portrait in 1973.
Throughout King's hometown Monday, residents found ways to honor his memory by observing the King holiday as a day of service. Volunteers fanned out into the community to clean and spruce up schools, nursing homes and other facilities.
Students, parents, staff planted flowers and trimmed weeds around shrubbery outside Fairington Elementary school in Lithonia. Volunteers also mopped the schools hallways and the cafeteria.
"Our newly elected PTSA noticed that our building was not in beautiful condition," said principal Jeffrey Jenkins. "So I said why don't we take MLK Day as an opportunity to clean up the building? Instead of the kids being off, they could come back and help us beautify the campus." Jenkins said about 25 students volunteered to help.