SACS takes DeKalb Schools off probation
Ken Watts | 1/21/2014, 12:26 p.m.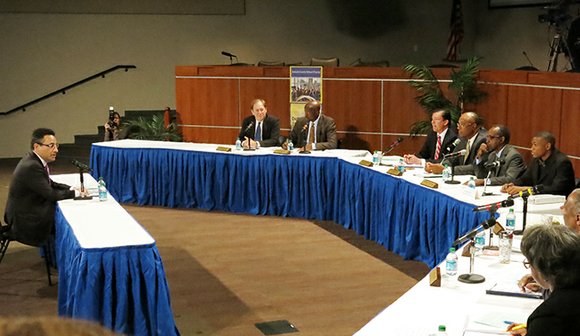 STONE MOUNTAIN — The DeKalb School District is no longer on probationary accreditation status. Mark Elgart, the president and CEO of AdvancEd, the parent company of the Southern Association of Colleges and Schools made the announcement Jan. 21 at a packed board meeting at school district headquarters in Stone Mountain.
After reviewing the district's progress in meeting 11 required actions, Elgart said the accrediting agency has placed the district on "warned" status, a couple of notches below full accreditation.
Elgart said the district has met eight of the 11 actions and is still in progress on the remaining three.
"This district has come a long way in a very short time, and frankly we were surprised that you've made so much progress so quickly," Elgart said.
SACS downgraded DeKalb's accreditation in December 2012 after citing governance, financial and student performance problems.
A SACS inspection team visited the school system in December for an evaluation and noted its improvement.
SACS will return in six months for another review of the district.
DeKalb will have to show that it can sustain its improvement and fulfill the remaining actions, Elgart said.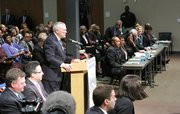 Gov. Nathan Deal, who replaced six of nine board members in 2013 after the accreditation crisis, spoke at the board meeting and praised his appointees for their work.
"You have shown my actions and my confidence in you to be well-placed," he said.
Superintendent Michael Thurmond said when he took over in Feb. 2013 there were questions about the district's viability.
"Things were in chaos and we were on the brink of losing accreditation," said Thurmond to reporters after the meeting.
"Now that's no longer a threat and we can build from this solid foundation."
Board Chair Melvin Johnson acknowledged the work that remains.
"We are only on the 50-yard line," Said Johnson after Elgart's remarks.
"We want to score a touchdown. And that touchdown will be student achievement and full accreditation."