Hungrytown concert at Decatur Library
1/24/2014, 6 a.m.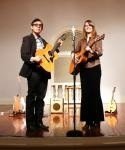 Married duo Hungrytown will perform folk and Americana music on Jan. 28 at the Decatur Library.
The one-hour family concert, funded by the Friends of the Decatur Library, gets under way at 7 p.m.
Rebecca Hall and Ken Anderson, who tour full time, released two highly acclaimed CDs that have received much airplay on folk and Americana stations worldwide.
Hall and Anderson's adventures have taken them throughout the United States, Canada, Europe, and New Zealand. Their songs have been performed by many other artists, including Nashville songwriting legend David Olney and bluegrass veterans the Virginia Ramblers.
Hungrytown's music also has been featured on several TV shows, including the Independent Film Channel's hit series "Portlandia."
The library is at 215 Sycamore St. in downtown Decatur. For more information,visit www.dekalblibrary.org or call 404-370-3070.