Parade for King should promote King's ideals
Jennifer Parker | 1/24/2014, 2:37 p.m.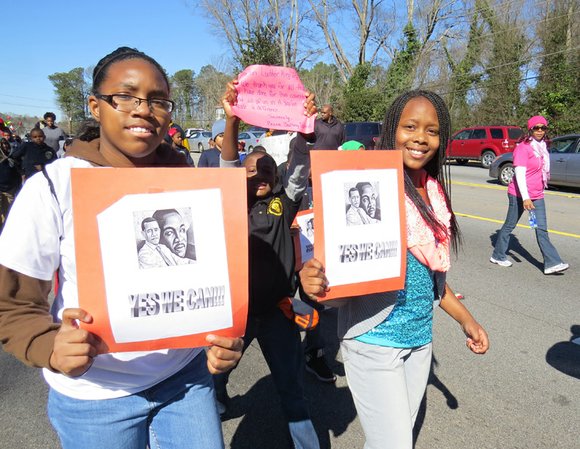 This past week, Dr. Martin Luther King Jr. was very prominent in our minds as we marked his 85th birthday.
As a community and a country, we took time to celebrate the ideals for which the civil rights icon fought and ultimately died.
Not many counties have parades for King, and I have been particularly proud to live in DeKalb County where the NAACP has sponsored a parade in his honor for 12 years.
For most of those years, I have walked in and photographed those parades, first in Stone Mountain, where it was held until 2012 when the NAACP relocated it to Snapfinger Road when that portion of State Highway 155 was designated Martin Luther King Parkway. Quite fittingly, the parade now culminates in a rally at the MLK Jr. High School, still the only high school in Georgia named in honor of the black preacher from Atlanta who defied and challenged a nation about its racist ways, spurned violence, and helped win civil rights for its former enslaved people.
Attendance at the parade ebbs and flows each year and is largest during the big election years for governor and U.S. president, when political candidates are seeking election and re-election to local, state and federal offices.
This year, it was big as ever.
There are open seats for sheriff and the School Board and the contested 4th Congressional District seat, and everybody who plans to run for office was out waving their multiple placards. Predictably, the elected officials who are not up for re-election this year were mostly absent.
Dozens of other civic, community and fraternal groups also came out to march in honor of King's birthday. But as always, it was very difficult to find King in the parade.
This year, like most, it was like trying to find Waldo.
It was so bad that several motorists waiting in long lines on Highway 155 for the marchers to go by could be heard asking the reason for parade.
Considering that King was one of the 20th century's greatest orators and is imminently quotable, it is disappointing that the groups, and the political candidates who flood the parade during election years, can't bother to dedicate even one of their numerous banners and placards promoting themselves to any of the ideals that King espoused.
In fact, had it not been for King and those brave foot soldiers of the civil rights movement, we might not even have the right to vote, much less the right to run for elected office.
During the two-mile parade from the parking lot of Green Pastures Christian Church on Flat Shoals Parkway to MLK Jr. High School, many of the people offering themselves for sheriff, School Board and Congress paraded with multiple election signs, but none – nada – had anything to say of the man the parade was honoring.
I am not calling any names because this is not about making examples of anyone, but the only four signs I found with King on them were held by DeKalb Commissioner Larry Johnson's entourage and mounted on the pickup carrying state Rep. Earnest "Coach" Williams and different photos carried by U.S. Rep. Hank Johnson and two students from DeKalb Early College Academy.