SACS takes DeKalb Schools off probation status
Ken Watts | 1/24/2014, 6:20 a.m.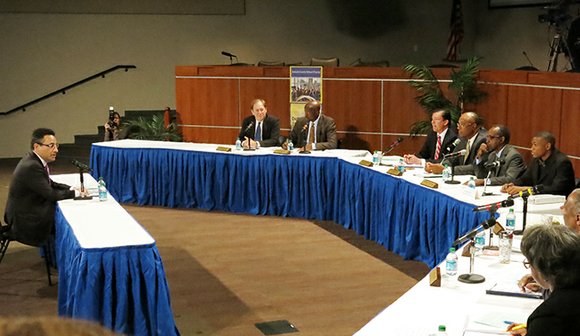 After a year and four days on accreditation probation, the DeKalb School System's accrediting agency SACS has placed it on "accredited warned" status.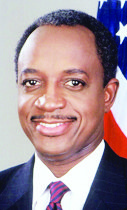 Mark Elgart, president and CEO of AdvancED, the parent company of the Southern Association of Colleges and Schools, told a packed Jan. 21 School Board meeting that after reviewing the district's progress, it is now just a couple of notches below full accreditation.
"This district has come a long way in a very short time, and frankly we were surprised that you've made so much progress so quickly," Elgart said.
An ecstatic School Superintendent Michael Thurmond said the "stain of probation" has been eradicated from the district.
"The decision to upgrade the district's accreditation status provides a sense of pride and relief to our internal and external stakeholders," he said after the announcement.
The SACS report said that the district has fulfilled eight of 11 required actions and noted the following improvements:
The School Board has made substantial efforts to ensure that its actions reflect the will of the members and approved policies and laws.
The school system has implemented policies that separate board duties from those of the administrative staff.
The district has taken significant steps to restore public confidence in its handling of the its budget.
The board has developed policies to strengthen the district's governance.
The school system continues to make progress in establishing a chain of command for communications throughout the system.
Programs have been put in place to stabilize the school system and restore confidence among stakeholders.
The district has created comprehensive and systemic processes to guide its operation.
The school system has used the accreditation process to develop the foundation of more effective management.
Claiming that there was significant and irrefutable evidence that the district was in a state of conflict and chaos, SACS placed the school district on accreditation probation on Dec. 17, 2012, for governance, financial and student performance issues and placed the state's third-largest school district a step away from losing its accreditation.
That action followed SACS placing the district on "accredited on advisement status" in March 2012.
At the time, the SACS report pointed out that the district has a nearly $1 billion budget but began the school year with a growing $25 million deficit and that some students began the 2012 school year without textbooks because $25 million earmarked for textbooks was used elsewhere. It also said that most students lack access to computers and the Internet.
Thurmond told members of the DeKalb Delegation at a Jan. 22 public hearing at the Maloof Auditorium that the deficit has been eliminated and that the district finished the past fiscal year with $10 million in surplus.
In December, the district announced that all its classrooms are now 100 percent wireless, providing unprecedented access to information for students.
"No longer must students take turns in a computer lab or rely solely on hard-wired technology," Thurmond said in December. "With this achievement, technology-based learning becomes part of the everyday classroom experience, broadening communication and learning across classrooms and schools for all of our students, teachers and administrators."