Transportation 'pop-up' meetings engage in a new way
Ken Watts | 1/24/2014, 6 a.m.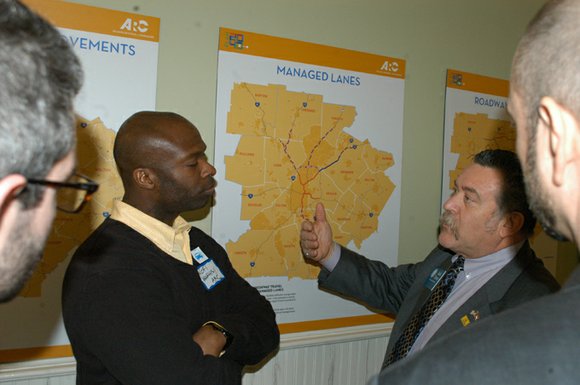 The curiosity of strangers transformed a vacant former restaurant space into a bustling Saturday afternoon hangout for a couple of hours on Jan. 11.
Over the years, the storefront at 515 N. McDonough St. has housed a sandwich cafe, bookstore and ice cream shop across the street from the DeKalb Courthouse and less than a block away from Decatur's historic old courthouse.
Days earlier, social media and email spread word that the Atlanta Regional Commission would host an unusual "pop-up" meeting there to discuss updates to its $59 billion Regional Transportation Plan – a blueprint to sustain metro Atlanta's livability and prosperity through 2040.
In its announcement of its pop-up meeting, ARC said it was the first test-run of an idea it got from residents in its community engagement survey last summer.
"In that survey, more than 2,000 of you said you wanted more local choices, different ways to engage and online options," it said. "You said you wanted informal connections, innovation and, dare we say it, fun."
On the day of the meeting, the storefront's windows were plastered with signs that read: "You Are Here."
By midafternoon the place was packed with more than 100 people, including those who got the message and many others who were passing by and wandered in to see what the commotion was about.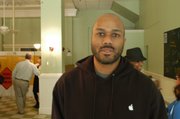 Brian Houston, a Decatur resident and support tech with Apple Computers, was just walking down the street when he saw the signs.
"I wanted to come in and learn more," he said. "I'm always interested to hear about improvements to our infrastructure, so this is great."
Houston was one of the few visitors from South DeKalb where residents have been pushing for MARTA rail expansion for more than 30 years.
The walls of the room were covered with ARC's transportation maps, and charts highlighted problem areas and proposed improvements to regional roads, interstates and transit.
People who had just been picking out produce at the farmer's market found themselves suddenly engrossed in talk of traffic flow and rapid transit options.
The charts explained draft recommendations in the ARC's long-range plan, including transit expansion, road widening and maintenance, transit maintenance, bicycle-pedestrian paths, and other options.
The regional plan contains both short- and long-term transportation strategies to improve mobility in the Atlanta area.
John Orr, ARC's manager of transportation access and mobility, was happy with the turnout.
"We wanted to try different ways to reach people and find out their transportation needs," he said. "With the traditional public meeting, we've had mixed success getting the people to come out. So we wanted to do some other things and so far it's been a success."
Orr said early feedback indicates that participants appreciated the nontraditional approach and that the pop-up event attracted many people who might not have attended a formal meeting.
"We need public input because every part of the region has different transportation needs," he said. "One section may need rail expansion, another may need bike paths. But it all has to fit together in a balanced regional system."