'Black Cultural Expo' at North DeKalb Mall
1/31/2014, 6 a.m.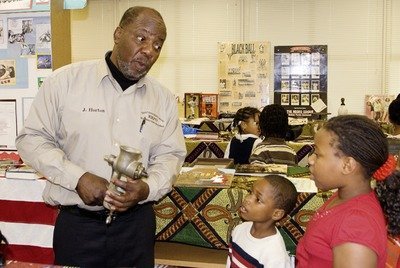 James Horton and "The Sights and Sounds Black Cultural Expo" Museum are back at the North DeKalb Mall through Feb. 28.
The exhibit presents more than 8,000 artifacts that chronologically display the historical passage of black Americans from their roots to present-day America.
Horton, who was injured on the Edmund Pettis Bridge in Selma during Civil Rights protests in 1965, is himself a piece of walking history. He also travels to schools, churches and the occasional family reunion to share some of his collection of black history memorabilia.
The free exhibit is housed at a store space in the Macy's wing of the mall.
It also features meet-and-greet sessions with storytellers, local authors and historical leaders and activities such as Wheel of Knowledge, Black History Quiz, and Who I Am Computer Game.
Free tours are available daily. To schedule group tours, call 404-966-2137 or 404-454-1462.
North DeKalb Mall is at 2050 Lawrenceville Highway in Decatur. For more information, visit www.northdekalbmall.com or call 404-320-7960.