CDC offers strategies for restaurants to reduce sodium in menu items
1/31/2014, 6 a.m.
Health departments and restaurants that want to work together to offer healthier choices for consumers to lower their sodium intake can find strategies in the CDC report "From Menu to Mouth: Opportunities for Sodium Reduction in Restaurants" in the Jan. 23 issue of its journal, Preventing Chronic Disease.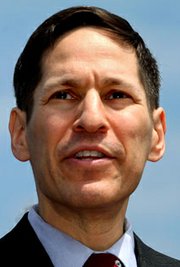 Too much sodium can cause high blood pressure, one of the leading causes of heart disease and stroke.
Americans eat out at fast-food or dine-in restaurants four or five times a week.
On average, foods from fast-food restaurants contain 1,848 milligrams of sodium per 1,000 calories, and foods from dine-in restaurants contain 2,090 mg of sodium per 1,000 calories.
The U.S. Dietary Guidelines recommend daily sodium intake to less than 2,300 mg.
Dr. Tom Frieden, the Centers for Disease Control and Prevention director, says reducing sodium in restaurant foods is an opportunity for choice.
"When restaurants rethink how they prepare food and the ingredients they choose to use, healthier options become routine for customers," he said. "The bottom line is that it's both possible and lifesaving to reduce sodium, and this can be done by reducing, replacing and reformulating."
The report outlines several ways health departments and restaurants have worked together to offer lower-sodium choices. Among them:
n Health department dietitians help restaurants analyze the sodium content of their foods and recommend lower-sodium ingredients.
n Restaurants clearly post nutrition information, including sodium content, at the order counter and on menus or offer lower-sodium items at lower cost.
n Health departments and restaurants explain to food service staff why lower sodium foods are healthier and how to prepare them.
"From Menu to Mouth" also features examples of sodium reduction successes.
In Philadelphia, the health department worked with 206 restaurants to create the "Philadelphia Healthy Chinese Take-out Initiative." After evaluating menus for sodium content, participating restaurants began choosing lower sodium ingredients and creating lower sodium recipes. After nine months, analyses of two popular dishes offered by 20 of the restaurants showed sodium was reduced by 20 percent.
Frieden said the story in Philadelphia shows what can be done.
"It's not about giving up the food you love, but providing lower sodium options that taste great," he said.
To learn more about sodium and how it affects health, visit www.cdc.gov/salt.
Reducing sodium is one way that Million Hearts, a national public-private initiative to prevent a million heart attacks and strokes by 2017, is working with communities to keep people healthier and less likely to need health care. For more information, visit www.millionhearts.hhs.gov.