Everyone will pay if cities create own school districts
Dr. Kathryn Rice | 1/31/2014, 5:08 a.m.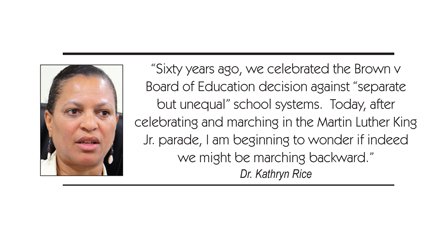 A resident of South DeKalb recently informed me of HR 486, a bill being considered in the state legislature that would permit an amendment to the Georgia state constitution allowing new municipalities to create their own school system.

In Georgia, new municipalities still have to participate in their county school system so here in DeKalb County (population of 707,000) we have one School Superintendent. What are the implications of changing that system?
I only have to look to where I grew up to see a full-blown example. I hail from Nassau County, NY, a relatively affluent county in the U.S. with a population of 1.349 million in 2012, roughly twice the population of DeKalb County.

In Nassau County, townships are able to create their own school system. As a result, Nassau County has a whopping 56 superintendents. The highest compensation package comes in at one of the highest in the nation, $541,454, the lowest at $232,059, and the average at $309,448.
Most of these highly paid superintendents oversee districts averaging 5,500 students.
Guess who's paying those superintendents' salaries? That's right. The taxpayer. Consequently, Long Island has one of the highest tax bases in the United States.

To compare, given that DeKalb has half the population of Nassau County, it would be as if DeKalb County had 28 superintendents each being paid $309,448. Taxpayers would have to come up with $8,664,544.
But there's more to the story than that. There are compelling similarities in Long Island and Atlanta's makeup that give us an idea of what to expect if we were to approve such legislation. Both areas have high levels of segregation – racially, economically and educationally.

Long Island, composed of Nassau and Suffolk counties, is the third most racially segregated region in America. Likewise, Atlanta in 1980 had the highest Black-White segregation levels in the south and in 2012 it had the highest ranking of any major city in income inequity.

As cities in Nassau County formed, more affluent White areas appropriated valuable commercial property; e.g., Garden City enfolded Roosevelt Field within their boundaries as Dunwoody enfolded Perimeter Mall. Finally, of the schools where the needs are highest (fewer resources and opportunities), 76 percent of the student population is Black or Hispanic/Latino.
Following is what Nassau County looks like now and what DeKalb County could look like in a short number of years. In Nassau County, high need areas (dominated by Black and Latino students) have the lowest school spending per pupil ($8,000 more on children in wealthier areas); higher teacher-student ratios; half the number of computers; a lower percentage of teachers with Master's level degrees; and fewer Advanced Placement courses, new textbooks, or specialized courses.

Unsurprisingly, student performance is lower.

What's also interesting is that the Erase Racism [www.eraseracismny.org/our-work/education) report found that the gap in scholastic achievement between low-income and high-income students "gets wider as students move from elementary school to middle school to high school."
If HR486 is enacted, we can expect the following results:
-- Higher taxes will be enacted to support more superintendents. Expect your taxes to go up regardless of where you live in DeKalb County if we allow separate school systems.