House delegation considering pause on cityhood
Ken Watts | 1/31/2014, 6:05 a.m.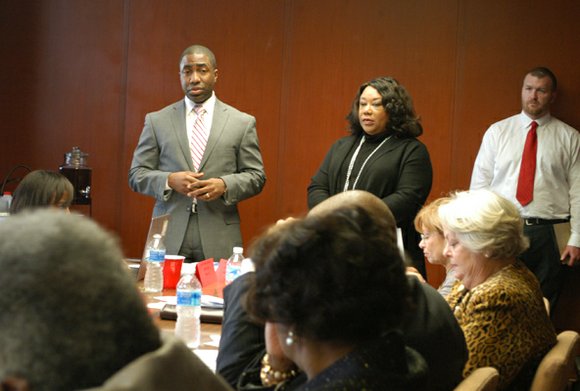 DeKalb's House delegation is considering a one year moratorium on cityhood initiatives to give residents, leaders and stakeholders a chance to assess the impact of incorporation on the county.
Interim CEO Lee May asked the delegation to write a resolution calling for a one-year pause in cityhood efforts at the delegation's Jan 27 meeting at the capitol.
May called the current process that allows areas to incorporate detrimental to the county on revenues and expenditures.

"For example, the HOST 1 percent sales tax allows us to use up to 20 percent of the revenues for capital improvments such as sidewalks streets," he said. "Right now that works out to about $20 million for capital improvements such as sidewalks and streets. But under current rules Dunwoody and Brookhaven get most of that money and we're left with about $6 million to pay for sidewalks and pot hole repairs on county roads."
State Rep. Howard Mosby, who chairs the DeKalb House Delegation, said it wants to help clarify the issues surrounding incorporation but is under the gun because of this year's early primary elections.
Mosby said the session is on a fast track because state primaries are on May 20 this year, as opposed to the usual July schedule. He said many lawmakers want to wrap up legislative business quickly so they can campaign for re-election.
"First, we'll check the status of the three current cityhood bills with House Speaker David Ralston to assess their chances of passing in the 2014 General Assembly," Mosby said. "We'd like to write a resolution to form a broad-based committee including cityhood advocates, the Speaker, Lieutenant Governor, Chairman of the DeKalb School Board and other community leaders."
Mosby said the committee would break down into study groups to examine not just the impact of cityhood, but also annexation of new parcels by existing cities and whether DeKalb should keep its CEO form of government.
"The committee could do it's work over the summer and generate a report before the beginning of the 2015 General Assembly and that would give everybody a chance to participate and give us a comprehensive idea of how to proceed," he said.
Cityhood fever has been sweeping the county since 2008 when the city of Dunwoody incorporated. It was followed in 2012 by the city of Brookhaven. Now three more proposed cities – Lakeside, Briarcliff and Tucker – are seeking referendums that would allow residents in those areas to to vote on cityhood.
A Carl Vinson Institute of Government study deemed the proposed city of Stonecrest not feasible because it would not generate enough revenue to cover its expenses.
May said neighborhoods that want to incorporate have a right to do so.
State Sen. Fran Millar (R-Dunwoody), who sponsored the Lakeside cityhood bill, said the negative economic impact of incorporation on DeKalb has been exaggerated.
"After I pay my Dunwoody city taxes, 85 percent of my tax dollar goes to the county including funds for the schools," he said.
Commissioner Sharon Barnes Sutton, who represents District 4, told the delegation the issues of cityhood are wide ranging and a comprehensive study is needed.
"All of our citizens who are outside the areas that are being annexed are being affected by these decisions but they don't have a voice and that's not fair to them," she said.

State Rep. Ernest "Coach" Williams expressed concerns about the delivery of county services to new cities.
"How do we bill and for how long,?" Williams asked.
May said it depends on what's being provided.
"For example, if it's an emergency police or fire call, we show up and work out the billing later," May said.
His plan for a one year moratorium depends heavily on getting all sides, including cityhood advocates, to the table.
"I really believe that the future of our county lies on the foundation of dialogue. It's something we need to learn from the past where we've had a dynamic side saying 'yes, yes, yes,' and the other side saying 'no,no, no,' and there's not really been robust dialogue about what [either option] looks like."