Atlanta crippled by 2-inch snowstorm
Neighbors lend helping hand; officials talk of lessons learned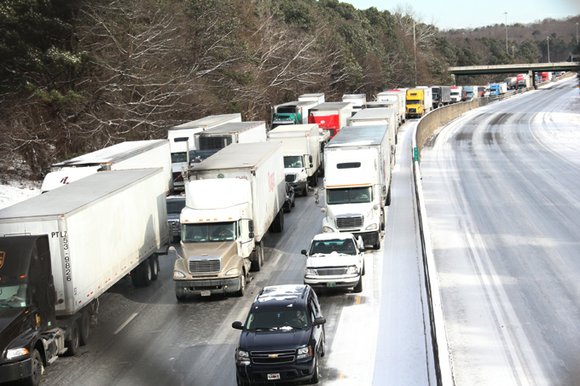 Metro Atlanta was looking forward to this weekend's warm-up into the 60s to help it dig out from under the Jan. 28 snowstorm that paralyzed the city and stranded thousands of motorists and 18-wheelers on interstates for nearly 24 hours.
On Thursday, trapped motorists who abandoned their vehicles on the interstates on Tuesday and Wednesday were being encouraged to retrieve them without penalty.
DeKalb County government said it had reached out to tow companies operating in the county to waive towing fees for stranded drivers who picked up their vehicles by midnight Friday.
"The five companies the county has established partnerships with include Cymil, Brown and Brown, South DeKalb, Statewide and S&W," DeKalb Police spokeswoman Mekka Parish said in a statement. "Drivers that incurred storm-related towing fees during this period can contact the DeKalb County Police Department's Permit Office at 404-297-3934 to file for a reimbursement."
The storm that dumped 2 inches of snow on the area Tuesday brought metro Atlanta to a standstill through Thursday.
By DeKalb County Government reopened on Friday, DeKalb Schools remained closed giving students their third day away from classes.
The storm stranded some children at their schools overnight Tuesday, and after up to 16 hours marooned in their vehicles on the interstates and highways, many motorists just abandoned them and walked in search of help.
Schools, government, business and commerce ground to a halt Wednesday and Thursday as Gov. Nathan Deal, Atlanta Mayor Kasim Reed, and DeKalb interim CEO Lee May called on residents to stay home and off the frozen roads.
Frigid temperatures turned the 2 inches of snow that fell Tuesday into ice and kept the interstates slick and hazardous.
The city of Atlanta reported 791 accidents and no deaths. In DeKalb County, there were 367 accidents.
DeKalb Chief Operating Officer Cedric Alexander, said 105 of the accidents had injuries, but no fatalities.
He said DeKalb 911 fielded more than 10,600 calls through noon on Thursday. There were 7,800 calls were to 911. and 2,800 were non-emergency calls.
Alexander said Highway 78 was the most problematic for the county.
"People left their cars in the middle of the road," he said. "They just walked away."
By 2 p.m. Thursday, the highway was clear again.
"We had problems on I-285, some parts of I20 and on I-85, but 78 was our toughest," he said.
Alexander praised the 300 to 500 police and fire crews who worked long hours assisting stranded students, and motorists with medical and other issues.
"We were prepared for it," Alexander said. "Everybody worked together and did a superb job. "
To reach stranded motorists, some officers had to walk. After a 12-hourt shift Tuesday night, special operations Officer T.M. White and Sergeant A.D. Williams walked half a mile up Highway 78 to help a stranded motorist, and Officer L.O. Niemann rescued a postal worker stranded 12 hours in her mail truck on Highway 78.
At the South Precinct in Decatur, Officer Jason Spruills rode his 10-speed bicycle from his home in Little Five Points to get to work Tuesday night.