Blasting at wastewater plant damages homes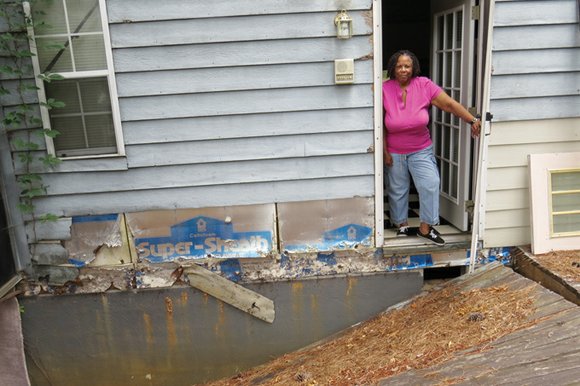 Deanna Fleming was in her kitchen on June 10, 2013, when her three-bedroom, two-story home began to shake violently.
Fleming, 72, who had lived in California for eight years, said she immediately knew what it was.
"I thought it was a 6.7 earthquake," she said. "There was a hard jolt and the house started to shake."
Calls to her neighbor across the street soon set her straight.
The shaking that separated the deck from her Lehigh Boulevard home, left her solarium hanging without a floor, and caused a series of sinkholes in her back yard was the result of blasting being done by county contractor Desmear Systems Inc.
She was not the only one who was affected. Homeowners in her Chapel Hill neighborhood and in the Riverbend subdivision along Dogwood Farms Road also complain about cracked walls, ceilings and driveways; decks, stairs and steps that have separated from their homes; and sink holes in the yards.
They all say the damage, which the county has acknowledged with settlement offers to some homeowners, was caused by the $755 million expansion to the Snapfinger Wastewater Plant located on 140 acres off Flakes Mill Road.
The plant is about a mile from the residents who have suffered damage to their property.
The expansion of the Snapfinger Wastewater Plant is one of the largest in DeKalb's $1.35 billion Capital Improvement Program that is making improvements to the county's water and waste-water system. There are 82 other CIP projects.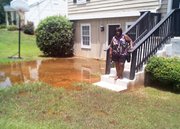 The Snapfinger plant, which was built in 1963 with a capacity of 2 million gallons a day, was expanded to 36 million gallons in 1983. Since then, population growth has undermined its ability to keep up and there are regular sewer overflows and spills into the county's creeks and the South River.
When the expansion is completed, the plant will be able to process 54 million gallons of waste water a day.
Work began on the expansion in July 2012. The blasting started in spring 2013 but was halted on Sept. 20, 2013. Phase 2 was scheduled to start late spring 2014.
Scope of project
On May 30, 2012, Tucker-based Desmear Systems, which is now in litigation with the county, signed a $7.6 million contract to clear, grade and blast rock in the area designated for the new waste-water treatment plant.
It had 240 days to complete the work with a penalty of $1,000 a day for each day after that, that the work remained incomplete.
The homeowners in Dogwood Farms, Riverbend and other subdivisions along Dogwood Farms Road said the blasting took place three to four times a week between May and September 2013.
Most of them were not notified about the blasting.
They said the June 10 blast was the biggest one.
"Water was just spewing everywhere," Fleming said. "My pipes were broken, my neighbor next door, that one across the street, up the street and down the street."
DeKalb County won't confirm anything about the blasts, but its Web site said that claims for Phase 1 damages had to be filed by Dec. 20, 2013, with a turnaround time of 45 to 60 days from filing to resolution.