McNair grad gets Bradford Scholarship
7/3/2014, 2:43 p.m.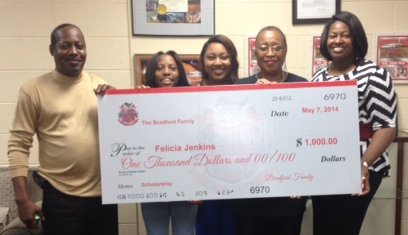 Felicia Jenkins of McNair High is going to Gordon State College in Barnesville this fall with a $1,000 Bradford Family Scholarship.
She was awarded the inaugural scholarship in May and plans to major in biology and become a doctor.
Jacklyn Bradford said the scholarship went to Jenkins because she had worked hard in high school and exemplified leadership and commitment to the community.
Bradford said her sons, Eddie Bradford Jr. and Eric Bradford, who both graduated from McNair High with honors, funded the scholarship to give back to their alma mater.

Eddie, who graduated from McNair in 1999, is a certified public accountant. Eric, a member of the school's 2001 class, is a senior programmer analyst with Bastion Technologies, a contractor for NASA in Huntsville, Ala.

Bradford Scholars must have a 3.0 GPA or higher and write a 250-word essay explaining how the scholarship will help them have a successful college career.
For more information, call Jackie Bradford at 770-314-6906.