K-9 Officer Rocky remembered by partner for stellar service
Ken Watts | 7/3/2014, 6:19 a.m.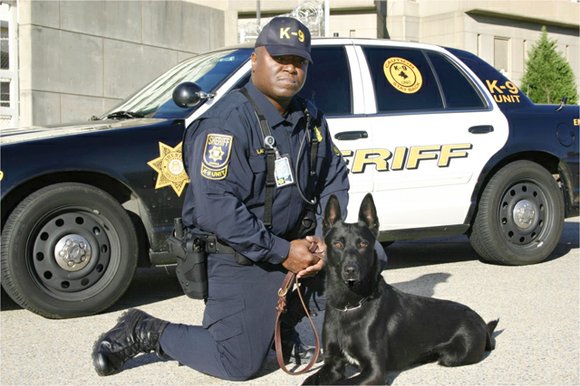 Sgt. Rodger Lacy is as tough as they come. But the six-year member of the DeKalb Sheriff's Office gets choked up when he talks about Rocky, his partner and canine friend of four years.
Rocky, a 7-year-old Belgian Malinois, was euthanized on June 2 after painful complications from a heart murmur, enlarged prostate and hernia.
Lacy said he will miss him.
"His loyalty was unmatched." he said on June 30. "Rocky loved his job and liked people, but he was absolutely aggressive. He didn't like anybody messing with me or him, so he was a great protector and he was even that way with my wife and my kids."
Lacy and Rocky began working together in 2009 when they were paired for eight weeks of narcotics detection at the Kasseburg Canine Training Center near Huntsville, Ala.
Rocky was similar in appearance to a German shepherd but slimmer. His breed is known for its alert, watchful and intensely protective nature.
For the next four years, he and Lacy were inseparable. With Rocky at his side, Lacy said it was easy to get suspects to surrender.
"He never had to bite anybody and never caused any injury because he knew when and when not to go into action," he said. "When he started barking, the subject would just get down on the ground and we'd take him into custody."
Rocky was Lacy's third canine partner.
"And he was the best," he said.
The highly trained canine law officer could sniff out drugs anywhere and intimidate crime suspects into surrendering without a struggle.
They did several Operation Street Sweeps, an anti-prostitution sting, and assisted on narcotics searches with the U.S. Marshals Service and the Drug Enforcement Administration. Lacy said they also helped on drug sweeps at the DeKalb Jail.
Instead of boarding Rocky in a kennel, Lacy took him to his McDonough home every day after work. The tough police dog quickly bonded with his wife, Tarje, and their four children ages 1 to 17.
When Rocky died, Lacy's kids took it hard.
"But they saw how he was suffering and they know that he's in a better place," he said.
The Sheriff's Office paid tribute to K-9 Officer Rocky on July 2 in a public memorial service at Oak Rest Pet Gardens in Bethlehem, Ga., where he is buried.
Lacy said he thought about cremating Rocky and burying his ashes at his home.
"But after talking it over at the office, we decided to hold the service because Rocky touched so many lives," he said.
As he grieves over his loss, Lacy said he hasn't yet decided whether he'll accept a new K-9 partner or opt for reassignment.
"That's up to the Sheriff's Office whether they want to move forward with getting a new dog," he said. "But this hit me so hard I'm not sure if I want to go through that again."