Precautions can help reduce the odds of fatal lightning strike
7/3/2014, 6:23 a.m.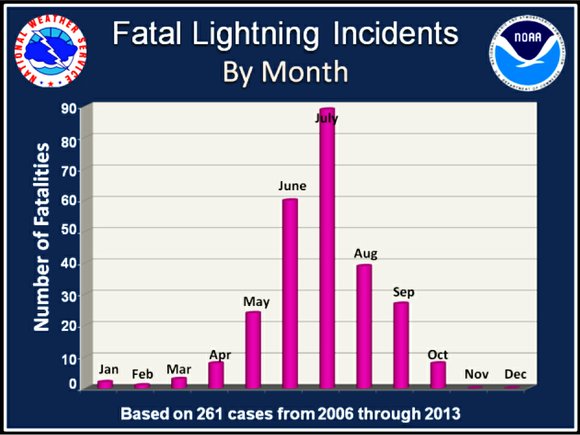 Georgia is among the top 10 states with the most lightning deaths and injuries, and the national Centers for Disease Control and Prevention offers precautions to take to lower your risk of being hit.
Lightning is one of the leading causes of weather-related fatalities. Even though the odds of being struck by lightning are 1 in 500,000, some factors can put you at greater risk.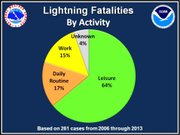 People who work outside or are engaged in outdoor recreational activities are at greater risk of being hit. Regional and seasonal differences also can affect your risk of being injured by lightning.
June, July, and August are the peak months for lightning activity and outdoor summer activities across the United States. As a result, a National Weather Service study of lightning deaths since 2006 found that more than 70 percent occurred during these months, with Saturdays and Sundays having slightly more deaths than other days of the week.
The consequences of lightning strikes are serious. Nationally, it caused an average of 35 deaths per year between 2003 and 2012. Georgia, which had 17 deaths in that period, is ranked No. 5.
Florida, with more than 2,000 lightning injuries over the past 50 years, is considered the "lightning capital" of the country. The other states with the most lightning deaths and injuries are Alabama, Colorado, Missouri, New Jersey, North Carolina, Ohio, Pennsylvania, and Texas.
The National Weather Service, operated by the National Oceanic and Atmospheric Administration, says that 64 percent of lightning deaths since 2006 occurred while people were participating in leisure activities. Fishing topped the list at 26 deaths, followed by camping with 15 deaths; boating, 14; soccer, 12; and golf, eight.
Others were struck while participating in a number of other leisure activities like enjoying the beach, swimming, walking and running, riding recreational vehicles, and picnicking or relaxing in their yard.
Between 2006 and 2012, 82 percent of people killed by lightning were male.
John Jensenius, the National Weather Service's lightning safety specialist, says that when people think of lightning deaths, they usually think of golf.
"While every outdoor activity is dangerous when a thunderstorm is in the area, outdoor activities other than golf lead to more lightning deaths," he said. "NOAA has made a concerted effort to raise lightning awareness in the golf community since we began the campaign in 2001, and we believe our outreach has made a huge difference since lightning-related deaths on golf courses have decreased by 75 percent."
Jensenius said the large number of lightning deaths while fishing, camping and boating may occur because these activities require extra time to get to a safe place.
"People often wait far too long to head to safety when a storm is approaching, and that puts them in a dangerous and potentially deadly situation," he said.
Prior to the lightning safety campaign, lightning killed an average of 73 people each year in the United States. Since the National Weather Service launched the campaign, the average has dropped to 37.
Here are some tips to protect yourself outdoors when lightning is close by: