Walmart grants top $54 million
7/11/2014, 6 a.m.
Three nonprofits serving residents of DeKalb County are among organizations in Georgia that have received more than $54 million in grants from Walmart and the Walmart Foundation in the last fiscal year.
Those funds are part of more than $1.3 billion the Bentonville, Ark.-based company and its foundation have given to nonprofits, surpassing their 2013 total by more than $244 million.
So far in 2014, $205,000 in grants will directly and/or indirectly help residents of DeKalb:
n Camp Kudzu, a Georgia-based nonprofit that is the state's single-largest resource outside hospitals and clinics for diabetes self-management education, has been awarded $30,000. DeKalb is one of five core counties for the organization, and many campers reside in the county.
n The East Lake Foundation, an organization that collaborates with public and private organizations to provide tools for community revitalization in East Lake, received $75,000.

n The Georgia Food Bank Association, a membership association serving the seven regional food banks in the state, received $100,000. The Atlanta Community Food Bank, which serves DeKalb, is among the regional nonprofits.
Walmart also donated nearly 30 million pounds of food to food banks in Georgia.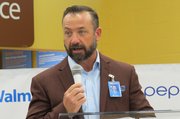 Glen Wilkins, Walmart's director of public affairs and government relations, said the company is excited to continue helping the communities it serves.
"The grants help fund several Georgia nonprofit organizations, which provide people in need with opportunities to live better," he said in a July 8 statement.
Since announcing the Fighting Hunger Together commitment in 2010 to donate 1.1 billion pounds of food and $250 million in cash by 2015, Walmart and Sam's Club facilities have surpassed both goals. As of January 2014, Walmart and its foundation have donated 1.58 billion pounds of food, the equivalent of 1.32 billion meals, and have awarded $260 million in grants to hunger relief programs in the United States, exceeding the original commitment by 4 percent.
Overall, it has exceeded $2 billion of cash and in-kind commitments to fight hunger at the local, state and national levels.
In Georgia, Walmart donated nearly 30 million pounds of food to food banks – more than 24 million meals in the past fiscal year. The retailer and its foundation made a donation of $83,000 to Feeding the Valley near Columbus to provide food to Georgia families in need.
Frank Sheppard, executive director of Feeding the Valley, said the nonprofit is "extremely grateful" for the generous donation.
"Our purpose is to provide food to hungry residents and improve food storage and distribution capacities in a 14-county region in West Georgia," Sheppard said. "The foundation's grant will be used to purchase two forklifts and one container freezer unit, which will allow us to feed significantly more people."
Other Georgia nonprofits receiving grants include Americas Second Harvest of Coastal Georgia, the Food Bank of Northeast Georgia, Golden Harvest Food Bank, and MUST Ministries.
For more information, visit http://foundation.walmart.com.