Southwest DeKalb parents protest teacher transfers
Ken Watts | 7/11/2014, 7:50 a.m.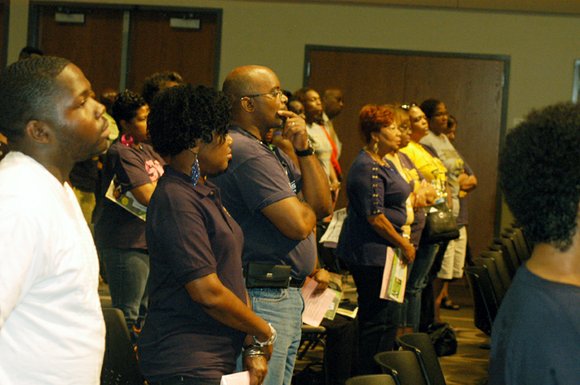 Southwest DeKalb High School parents are angry over the reassignment of five teachers who they say are victims of retaliation for blowing the whistle on leadership and other issues at the Decatur school.
The parents say that the five – ninth-grade math teacher Monica Hardesty, business administration teacher Lucy Wright, special needs teacher Bernice Foreman, and ninth-grade English teachers Carla Jordan and Marsha Murray-Bunsei – were transferred to other schools after they and 20 other teachers complained in September 2013 about the management style of Principal Carolyn Williams and other serious problems at the school.
In their four-page report, the teachers raised 15 concerns and recommended solutions.
"Teachers work every day to ensure their students achieve personal, social and academic growth," they wrote. "Teachers simply want to be treated with respect and as professionals in an environment where they are valued and appreciated. Stress factors will impact the teacher's performance and hinder student achievement."
The concerns ranged from ineffective leadership and planning to apathetic management, poor communication, disciplinary and campus safety issues, constant interruptions of instructional time, inconsistent policies and procedures, low morale, nepotism, hostile environment, and personal vendettas.
They wrote of budget cuts to all departments, questionable spending, and select individuals receiving resources and equipment, such as TV sets in their offices. They said there were closed-door meetings with a select few, and assistant principals and department chairs were unaware of the principal's plans and expectations and unable to answer staff questions.
"Rules do not apply to all staff," they wrote under the header "no consistency/fairness with expectation and policies." "Favoritism obviously shown. Certain staff members don't have equally shared duties and tasks." Under "damaged public relations," the teachers said magnet enrollment numbers have declined and AP and Accelerated classes at the school have been reduced.
"Parents arriving to meetings/events without order and clear communications; leaving without valuable information to assist their child. Parents unsure where to go and who to talk to."

The group gave the list to Williams and Area Superintendent Ken Bradshaw before meeting with the PTSA in September 2013.
Two of the five teachers were notified of their reassignment during the school year and the rest found out shortly after teachers presented their issues to the School Board in May. Williams was transferred to Stephenson Middle School for the 2014-15 school year.
PTSA President Byron Merritt said parents want the district to reconsider its decision.
Nearly 100 parents staged a protest at the packed July 7 DeKalb School Board meeting. They stood silently while Merritt and seven parents addressed the board during its public comment session.
"We're here to ask Mr. [Michael] Thurmond to reinstate the five teachers who have been reassigned away from Southwest DeKalb High by order of the superintendent in what looks to us like retaliation," Merritt said. "These are model teachers we want standing in our school."
DeKalb Schools spokesman Quinn Hudson said the teachers were reassigned because of falling enrollment at Southwest DeKalb. Enrollment has declined from 1,700 students in 2011 to 1,350 in 2013. He told reporters after the meeting that he couldn't comment about specific teachers.