Wide experience among 20 candidates seeking appointment to interim commission seat
7/11/2014, 6:49 p.m.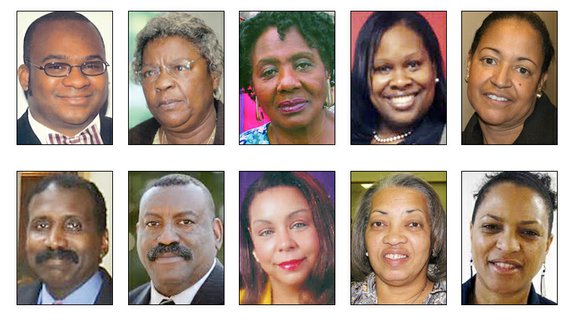 The 20 people seeking appointment to be DeKalb's interim District 5 commissioner include well-known community leaders, advocates and activists, a former state representative and his ex-wife, two former candidates for DeKalb sheriff, a medical doctor, an attorney, two MBAs and some newcomers to the political scene.
The list, released by this afternoon by Interim CEO Lee May's office, includes:
-- Tarnisha Dent
-- George Turner, Jr.
-- Gina Smith Mangham, Esq.
-- Charles Smith Hill, M.D.
-- Kenneth R. Saunders, III
-- Markus J. Butts
-- Kathryn T. Rice, Ph.D.
-- Randal Mangham, Esq., MDiv.
-- Faye Coffield
-- Jacqueline Tumbling
-- Pierre Louis
-- Melvin D. Mitchell
-- Belinda M. Myers, MBA
-- Harmel Deanne Codi, JD, MBA
-- Joscelyn C. O'Neil
-- Andre R. White
-- Geraldine A. Champion
-- Kamau K. Mason, Esq.
-- Angela Moore
-- Wendolyn Peters
DeKalb press secretary Burke Brennan revised the list of candidates from 21 to 20, saying one resume was inadvertently counted twice.
The candidates met the July 3 deadline to apply for consideration.
A three-member citizen panel made up of state Rep. Rahn Mayo, Stone Mountain attorney Rosalind Newell, and Lithonia community activist Lisa Allen will pick two finalists for the appointment.
May, who is the district's commissioner, will pick the successful candidate.
The county did not say when the panel will meet, but May says he expects the panel's recommendation by the end of the month and to make a nomination to the Board of Commissioners within the first two weeks of August, if not sooner,
May has been serving as interim CEO since July 16, 2013, when Gov. Nathan Deal suspended CEO Burrell Ellis from office following his indictment on theft and corruption charges for allegedly shaking down county vendors for campaign contributions.
The appointed interim District 5 commissioner will serve the district of 145,000 residents until suspended Ellis returns to his position or is permanently removed from office, and May returns to his seat.
Ellis' trial is scheduled to start on Sept. 8.
The Georgia Legislature passed SB 367 on March 20 to provide representation for the district. The absence of a seventh commissioner on the board has led to a stalemate and hampered decisions on controversial matters.
The interim District 5 commissioner will receive the $38,374 annual salary paid to elected commissioners.