'Captivating' dancer moves to any beat
7/18/2014, 6 a.m.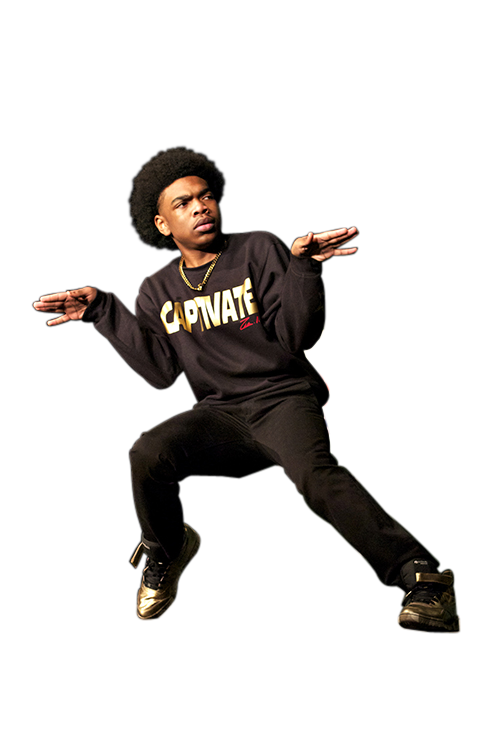 Zion "Lil Wiz" Moore was 6 when he pulled some "hopping and ticking" dance moves that surprised his parents, Corliss and Arthur.
"My mom and dad were like, 'Where did you learn to do that?' " 15-year-old Zion recalled last week.
As far as he knew, it came out of nowhere.
"I just woke up one day with the gift of dance," he said.
Zion, a rising 10th-grader at Columbia High, thinks he got inspired by the 2004 hip-hop dance movie "You Got Served." He has never looked back.
At Columbia Elementary, he danced in talent shows, and soon he and big sister Zhani, who was in the fifth grade, were the dancing duo Elementary Style.
When Zion got to the fourth grade, he and Zhani switched to gospel and for a year and a half, they danced with Miss Monique's Visions, a group that did church events across metro Atlanta.
These days, Zhani, now 19, is in college, and Zion is going solo as Captivating, a word that also describes what happens to audiences when they watch him dance.
His lithe movements and ability to bend and twist his body also mesmerize those watching. He moves to any music with a beat – gospel, hip-hop, pop, dub, rap and R&B.
"It's just a God-given talent" is how Zion explains it.
Along the way, he got help from Master Pop, a Decatur resident who was born in New Orleans and is master of the hopping and ticking dance genre.
A friend of his brother, Zackary Noble, introduced the two.
"He became my mentor and helped me develop my skill and techniques," Zion said.
Zion has performed on WSB-TV's "Salute to the Troops," and in February, he nabbed second place and $500 in Herschel Walker's Raw Talent Search in Dublin, Ga.
In the summer of 2013, he won first place and $500 in the Atlanta Bomb Squad Reunion competition.
In 2010, he and Zhani performed with Vickie Winans in Philadelphia, and in 2011 and 2012, they were regulars on "The Bobby Jones Gospel Show" that taped in New Orleans.
Last school year, Zion appeared on the DeKalb School District's "The Bridge" teen show, and since June he has been doing his own blog on YouTube and at www.twitter.com/IamZionDaFro and on www.instagram.com/ZionDaFroShow. Fans can follow him at @ziondafroshow, at @iamziondafro and #teenswanttoknow.
In the video blog "Zion Da Fro Show," he keeps kids and teens abreast of what's going on in the world of sports and entertainment.

So far he has interviewed actor Emmanuel Hudson, whose credits include "Lunchtime Warfare," "Ride Along" and "What Love Will Make You Do"; talked with Atlanta Hawks cheerleader Erica at the 2014 NBA Draft Party; and chatted socks with teen designer SixSox, who creates socks to match sneakers.

While views have ranged from 22 to 66 on his first three videos, Zion says he is working to build an audience and entertain people.
"I want to spread my gift throughout the world and help other kids to show their gifts and follow their dream," he said.
As Zion sees it, he is just as talented as Chris Brown, Jason Derulo, Usher and Justin Bieber. The only difference: He hasn't been discovered – yet.
Zion says when he performs, he likes to leave a smile on the faces of the people watching.
"I want them to say, 'Man, this kid is going to be a star someday and I was lucky to see him before he blew up.'"