Charter schools, student achievement top voter priorities at school board forum
Ken Watts | 7/18/2014, 10:27 p.m.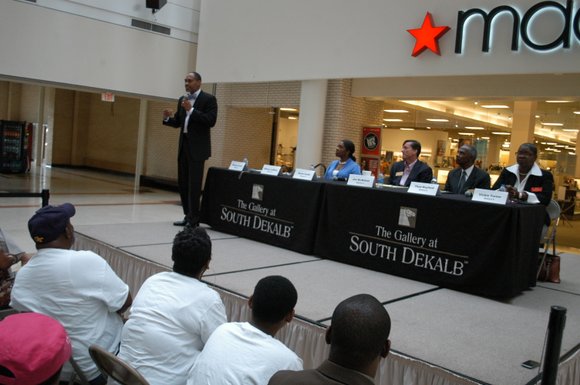 With time running out before the July 22 runoff election, about 50 DeKalb voters had pointed questions for school board candidates about Charter schools, student achievement and teacher pay. Making a last minute pitch at a forum in the Gallery at South DeKalb were Incumbent Michael Erwin, who represents District 3; Incumbents Karen Carter and Jim McMahan, District 4; and incumbent Thad Mayfield against challenger and private school founder Vicky Turner in South DeKalb's District 5. Carter and McMahan are pitted against each other because of redistricting. Erwin's District 3 challenger Atticus LeBlanc did not attend the event.
The candidates were asked what they would do about the district's low graduation rate. 1,456 seniors- a full 24 percent- failed to graduate with their classmates from DeKalb high schools in May.
Erwin called it an urgent priority.
"We need to add some state funding to hire more teachers and reduce class size and we need to do a better job of identifying struggling students earlier in their education," said Erwin.
Turner parents and teachers need to be more vigilant.
"I am sad that we had to get it in the newspaper," Turner said referring to a June 21 CrossroadsNews article on the graduation rates. "I think we could have engaged them, maybe teachers should have seen indications earlier and made sure that they got the help they needed."
"We have to make sure that every available dollar is spent in the classroom doing what it's supposed to do, help improve student performance, Mayfield said. "This problem should have been caught in elementary school but the system wasn't accountable."
McMahan agreed that systemic problems are a factor.
"We have promotion and retention policies in the grade schools that should be revisited," he said. "Social promotions have to stop. sixth gade teachers see some of these struggling kids and are saying 'how did they get here?'"
An audience member wanted to know why the DeKalb schools are talking about going completely charter instead of fixing the current public school system?
Carter said she served on the Flexibility Options Advisory Committee to study the charter plan.
"The group included citizens, business leaders, and we thought the charter proposal is a good idea because it gives the community around the schools greater involvement at the local level on how to improve it." She said.
McMahan said other options such as public-private partnerships between individual schools and business work up to a point.
"The problem is that when innovative ideas come out at the school level you have to go to the central office for permission to adopt it and more times than not, the answer is no," he said. "With charter, parents vote at the local level without interference."
Superintendent Michael Thurmond in April announced his proposal to adopt a districtwide charter system to give local school principals the authority to make changes at their schools through exemptions or "waivers" approved by the district and to allow for the full range of flexibility, autonomy and innovation across all the district's schools, he said. The proposal has to be approved by the board but members have not set a date for a vote.