Men to offer an earful in 'Piece of My Mind!'
7/18/2014, 9:20 p.m.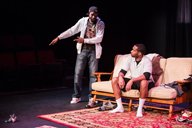 "A Piece of My Mind!" by Ronald McIntyre will be read on July 26 at the Porter Sanford III Performing Arts Center in Decatur.
In the thought-provoking drama, African-American youth and men share their views of the world. In a series of monologues, the cast of 13 speaks on everything from puberty to marriage, misguided youth, unemployment, success, white women, law enforcement, sexual assault, homosexuality, prison, and the power of God.
It begins at 7 p.m.
"A Piece of My Mind!" presented by McIntyre's Atlanta-based entertainment company Fairfield-Crewe Productions, is directed by Paris Crayton III.

A talk back with the producer/playwright, the director and a special guest will follow the staged reading.
Tickets are $10 and are available at http://apieceofmymind.eventbrite.com and at the door.
The center is at 3181 Rainbow Drive.