Morgan failed to mention pro-charter job in disclosures
Jim Walls | 7/18/2014, 8:57 p.m.
State School Superintendent candidate Alisha Morgan makes no secret of her support for charter schools or her affiliation with the pro-charter Black Alliance for Educational Options, noting it in several online biographies.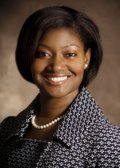 But when she filed her personal financial disclosures with the state Ethics Commission in 2012, she neglected to mention that the alliance had been paying her.
Morgan, a state representative, joined the alliance's board in 2010, stepping down in September 2011 when the alliance hired her for a salaried job as director of its Bailey-Sullivan Leadership Institute.
Under her direction, the alliance announced, the institute "will work to recruit, train and support black professional activists through its National Advocacy Fellowship and Emerging Leaders Education Action Network. Both programs will focus on recruitment and training of black education choice activists; the latter will be aimed at college students and young adults under the age of 30. BSLI also will sponsor a yearlong fellowship to support the launch of black-led education reform initiatives."
Morgan, (D-Austell) represents House District 39. She is vying in a July 22 runoff election with former Decatur School Board Chairwoman Valarie Wilson for the Democratic nomination for state school superintendent.
Under Georgia law, candidates annually must disclose board membership or other fiduciary roles with businesses or nonprofits, as well as their occupation and employer, as of Dec. 31 the previous year.
Morgan noted the alliance job on her Face­book page, but her financial disclosures for 2010 and 2011 mentioned neither that job nor her service on the organization's board.
Following inquiries by Atlanta Unfiltered, campaign spokesman Stephen Alford responded in an email that Morgan was a full-time employee at the Black Alliance for Educational Options for six months.
She was not compensated for her prior service on the alliance's board, he said.
"Alisha will review the disclosures and submit updates and/or additions, if necessary," Alford wrote in a July 16 email.
Morgan in 2012 co-sponsored a constitutional amendment allowing the state, not just local systems, to create charter schools.
The previous year, she was still serving on the alliance's board when it filed an amicus brief asking the Georgia Supreme Court to reverse its ruling that disbanded the Georgia Charter Schools Commission. The court declined.
Coincidentally, Morgan served as a program manager at the People for the American Way, founded by TV producer Norman Lear, for several years early in her legislative career.
The activist group took a few shots at the Black Alliance for Educational Options in 2001 and 2003 for accepting much of its funding from right-wing donors.
"BAEO takes its place among the other think tanks and local organizations that have been created with money from right-wing foundations as well as individuals and organizations hoping to profit from promoting increased privatization of public education," the group's 2003 report concluded.
Morgan has reimbursed herself for nearly $16,000 in campaign expenses since 2006 but rarely reported the end recipient of the spending as required by campaign finance rules.
Of that amount, $3,378 was reimbursed to her without reporting the purpose of the spending, which the rules also require.
Since 2009, Morgan has been self-employed as a motivational speaker. She reported earning $71,000 in total income in 2013.
Her ex-husband, David Morgan, is a member of the Cobb County Board of Education and a lobbyist representing the American Federation for Children (her top campaign donor).
The Morgans were divorced in 2013.
Donors have given more than $506,000 to Morgan's campaign committee since 2002. The American Federation for Children, a school choice advocacy group, and its leadership are her top donor with $51,700.
Since 2006, lobbyists have reported paying more than $12,000 for meals and other gifts for Morgan.
The big spenders are the American Federation for Children ($4,476), Georgia Power Co. ($3,747), and BFF lobbyist Jamie Lord ($3,668).
Jim Walls is the publisher of http://atlanta unfiltered.com