New push for city of South DeKalb kicks off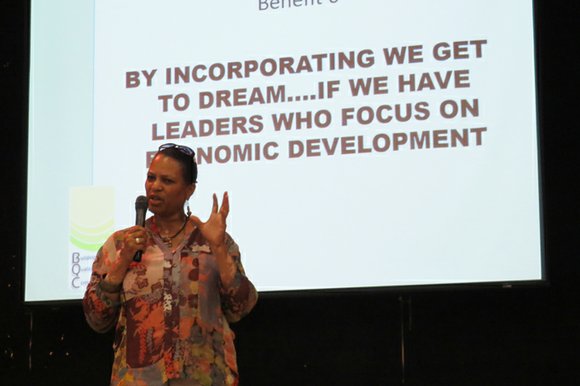 A city of South DeKalb is definitely on the table for the 2015 Georgia Legislature.
With a show of hands, a majority of the 70 residents at a meeting exploring the proposed city voted July 16 for organizers to pursue the initiative in the southern end of the county.
After the vote, 31 of those same residents signed up on committees to spread the word, do research and lobby legislators.
Dr. Kathryn Rice, one of the movement's coordinators, said she has joined forces with Stonecrest City Alliance President Jason Lary to push for the new city in the 2015 Georgia Legislature.
She told the audience in an auditorium on the campus of New Life Baptist Church on Flat Shoals Parkway in Decatur that this is the best time to push for a city of South DeKalb.
"If we do not introduce our city now, our next opportunity will be 2017," said Rice, a Stone Mountain resident and co-founder of the South DeKalb Improvement Association.
Rice said a city of South DeKalb makes sense.
"There is no other place in the metro Atlanta region that is as well-situated or has as much potential as south DeKalb County," she said.
Rice pointed to the area's close proximity to the busiest airport and the city of Atlanta and its access to the major transportation nodes of I-285 and I-20 and to the national Centers for Disease Control and Prevention and centers of learning like Emory and the University of Georgia.
"We have proximity to all of the things that businesses are going to need," she said. "We have available developable land at Stonecrest mall. When they come in and see the beautiful homes in South DeKalb at the incredible ridiculously low prices that we have, our population may change.
"The question should be, We have so much to give, how come we haven't gotten more than we have right now?"
The room broke into spontaneous applause.
Rice has broad and deep roots in economic development. She is the founder and president of Building Quality Communities, a firm that consults with corporations, governments, nonprofits and church groups, and she has worked in economic development for the city of Atlanta's Empowerment Zone. She is also a former director of the Center for Economic Development at the Georgia Institute of Technology and was an instructor in economic development and urban affairs at Georgia State.
Rice said that she has joined forces with Lary because they both believe in economic development for South DeKalb. Lary's attempts to create a city of Stonecrest during the 2014 Legislature failed because that proposed city would not generate enough revenues to cover its operations.
The proposed city of South DeKalb would include both the city of Stonecrest and the City of Prosperity proposed during the 2014 state Legislature.
At Wednesday's meeting, residents heard presentations from Jim Skinner, a researcher from the Atlanta Regional Commission's Research and Analytics Division, on two scenarios – a city of South DeKalb south from Memorial Drive and a city from U.S. 78 that would include unincorporated areas of Clarkston.