Young singer-songwriter in demand as word of her talent spreads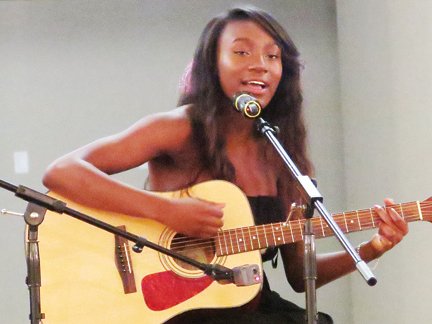 Taylor Madison Rose has been turning to pen and paper to express her feelings ever since she was in the third grade.
If she had a bad day at school, she penned a poem about it.
If she didn't stand up in church when she should have, she wrote about it.
If everything was going really well for her, she wrote about that too.
"I loved to read," she said last week. "After reading a book, I would be inspired."
Since she had been singing at church and school "for as long as I can remember," it was only natural that some of those poems became lyrics for her songs.
But her foray into songwriting began when she made up a song about a butterfly in the fifth grade, and inspired by eighth-grade English teacher Sahima Ise at DeKalb Academy of Technology and the Environment, her writing took flight.
Taylor said Ise was no average teacher teaching just out of a book.
"She had us writing poetry in class," she said. "That's where I fell in love with writing."
Some of her poems made it into the class anthology and she also was published in the Voice of Youth, a national English journal. Two years ago, her mother, Charlotte Dudley, brought her a guitar and Taylor began making up songs on the fly as she strummed notes.
"I love to rhyme," she confesses with a laugh.
She taught herself to play the guitar by watching how-to videos on YouTube, and after she mastered the basics, her mother paid for some lessons. Soon she was taping herself as she played and sang so that she could go back and write the words down. Today, she has a box full of poetry in her Lithonia bedroom closet.
"I write because it helps me get through life and get through my experiences," she said.
Now 17 and a rising senior at DeKalb Early College Academy in Stone Mountain, Taylor is an accomplished singer, songwriter, poet and guitarist. She says that first she was reluctant to share her talent, but her church family at Light of the World Christian Tabernacle International in Stockbridge encouraged her to share her music with them.
"It became a good thing," said Taylor, who is now worship leader for the church's JOY youth ministry's weekly 9 a.m. service.

Soon she was writing a song a week and performing them.
"I would sing about the experiences I have had with God, which is pretty easy to do," she said. "I would record them and then write it down."
Taylor will showcase some of that talent at the CrossRoadsNews 2014 Family & Back-to-School Expo at the Mall at Stonecrest on July 26. She will be on the Main Stage near Sears at 12:30 p.m.
Taylor says she has grown to enjoy performing, especially with her guitar in hand.
"Before, it was always nerve-racking," she said. "Now, the guitar is like my best friend onstage."
Surprisingly, she has not yet given it a name.