2015 School Board will have only two former appointees
7/25/2014, 7:41 a.m.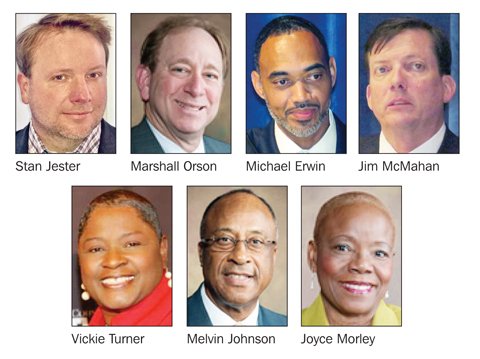 Only two of Gov. Nathan Deal's six appointees to the DeKalb School Board – Dr. Michael Erwin and Joyce Morley – will on the new board when it is sworn into office on Jan. 5.
In the July 22 runoff elections, two appointed board members – Dr. Karen Carter and Thad Mayfield – lost their seats. Two of the appointed board members – John Coleman and David Campbell – did not seek election.
Morley, who represents District 7, won her seat in the May 20 election.
They will join Stan Jester, District 1; Marshall Orson, District 2; and Dr. Melvin Johnson, District 6, on the new 2015 School Board. Jester was unopposed in District 1.
Erwin, a college professor, was the only victor among appointees in Tuesday's School Board runoffs. He won his District 3 seat with 59 percent of the vote over challenger Atticus LeBlanc.
On his Facebook page, Erwin extended "heartfelt gratitude" to everyone who supported his first run for elected office.
"I look forward to serving as your representative to continue building upon the momentum created over the past 17 months," he said.
Because of redistricting and the reduction of the School Board to seven seats from nine, Carter was pitted against elected incumbent Jim McMahan in the District 4 race. McMahan took the seat with 58 percent of the vote.
In the District 5 race, Mayfield lost to private school founder and operator Vickie Turner, who got 59 percent of the vote.
Turner said it was a long and very hard-fought race.
"I'm grateful to my campaign team for its counsel and to my family, but most of all, the voters of the 5th District," she said.
The current board members' terms expire on Dec. 31, 2014.
Deal appointed the six board members in March 2013 after removing six elected members for governance issues after the Southern Association of Colleges and Schools placed the district on accreditation probation in December 2012.