James gets 'My Brother's' award
7/25/2014, 6 a.m.
DeKalb District Attorney Robert James will receive a "My Brother's Keeper" award on July 26 at the National Bar Association's 89th annual convention at the Marriott Marquis Hotel in Atlanta.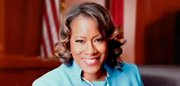 The award is given to a person who consistently works to improve the opportunity gaps faced by boys and young men of color.
James said he is "honored and humbled." He said he hopes that activists can work together to help minimize the numerous hurdles facing young people.
"When I first decided to run for public office, I ran with the idea that I could not only prosecute cases but that I could, in some way, make a difference in my community," he said. "We all share the burden of ensuring a brighter future for the next generation."
The bar association along with 100 Black Men of America, the National Organization of Black Law Enforcement, local fraternity chapters and public officials will offer programs for middle school, high school and college-age young people. Seminars will teach teens how to interact with police officers and deal with life challenges.
James was recently honored by the DeKalb Board of Commissioners for his work in creating the Anti-Recidivism Court for first-time, nonviolent offenders, one of many initiatives he has led to impact youth and young adults. James says he doesn't mind thinking outside the box to keep kids out of prison.
"We have to be deliberate in our approach to stopping the revolving door of recidivism and curbing criminal behavior and activity in our neighborhoods," he said.