DeKalb voters did good rejecting Jones' bid
Jennifer Parker | 7/25/2014, 7:16 a.m.

In Tuesday's runoff elections, DeKalb voters showed in no uncertain terms that Vernon Jones is not "OUR Man!" as his campaign fliers would have had us believe.
When all the votes were counted, Jones, the county's former CEO, walked away with a paltry 23.6 percent of the vote to Sheriff Jeff Mann's 76.4 percent.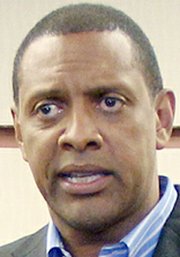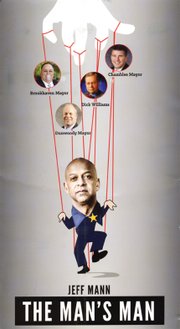 In real numbers, Jones got 12,553 votes to Mann's 40,537.
That's a whupping, if there ever was one.
While Jones has tried to paint Mann as a North DeKalb candidate, the precinct-by-precinct results show that Mann had support throughout the entire county.
Those results also show that Jones – with his billboards and big signs posted illegally in the medians of our streets, on interstate ramps, and other public rights of way – struggled to get a majority of votes even in his old strongholds.
He won eight South DeKalb precincts, barely.
Now, maybe Jones will get the message that his brand of negative, divisive and racial politics has no place in our county anymore, if it ever did.
So how did a once well-liked politician end up this way?
By forgetting that when you are elected to office, you represent all the people.
By forgetting that isolating and bullying people will only get you so far.
And by forgetting what it means to be a statesman.
In the heady heyday of the early to mid-2000s, Jones used to be our man, but no more.
He likes to talk about what a great job he did running the county, but increasingly, residents are realizing that many of the problems we now face as a county were rooted in his administration.
He sowed the seeds of discord that fuelled the cityhood movement by being nasty to voters in the north end of the county.
Dunwoody was the first to take flight, and now new cities are sprouting everywhere, dividing up the county's best commercial and taxpaying areas and parks among themselves.
Jones reigned over DeKalb County in the years of the building boom and budget surpluses, yet his administration never purchased a street sweeper to keep our roadways clean nor put in place a plan to maintain the public rights of way.
He carved out no future for the county beyond his administration.
His friends and cronies got contracts for millions of dollars when those contracts were supposedly only limited to $50,000.
During his administration, Jones systematically removed, demoted or drummed out white managers and employees to install black managers and employees.
For those actions, the courts found that he created and maintained a hostile work environment for white employees and awarded $185,000 to two of the plaintiffs in a discrimination lawsuit.

In the obnoxious campaign mailer he sent to voters' mailboxes, he claims to have managed De­Kalb's largest enforcement agency, the DeKalb Police Department. I thought that is why the county has a police chief.
Now it makes sense why he sent the Rev. Wiley Jackson to visit Chief Eddie Moody in his home back in 2004 to force him out of office when he wouldn't do Jones' bidding.