E-cigs sale to minors now illegal as new law takes effect
Ken Watts | 7/25/2014, 6 a.m.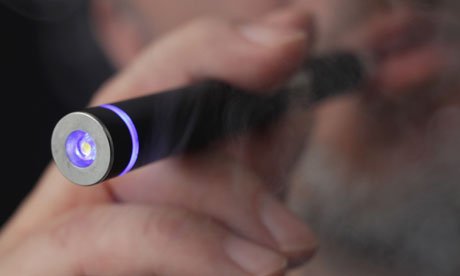 It is now against the law in Georgia to sell or distribute any electronic cigarette to a person who is under the age of 18.
HB 251, which went into effect on July 1, imposes a $300 fine on any retailer who sells the noncombustible nicotine alternatives to any underage customer. Any minor who buys, tries to buy or otherwise possesses the products faces up to 20 hours of community service.
The law, which passed the Georgia Legislature on March 27 and was signed into law by Gov. Nathan Deal, stems from the increased popularity of the alternative cigarettes.
Electronic cigarettes offer smokers a way to consume nicotine without lighting up or chewing tobacco. But health experts say the devices are far from safe. They and similar electronic nicotine delivery devices have not been approved by the Food and Drug Administration as tobacco cessation devices.
Nancy Nydam, spokeswoman for the Georgia Department of Public Health, said they are urging caution about the use and exposure of children to electronic nicotine delivery systems, including electronic cigarettes and other emissions-producing products.
"DPH is asking adults to warn children and young adults of the dangers of electronic nicotine delivery systems, sometimes referred to as 'e-cigarettes,' 'vape pens' and 'e-hookahs,' and to keep these products out of the reach of young children," Nydam said in a July 2 news release.
Emissions from electronic nicotine delivery products may include formaldehyde, propylene glycol, acetaldehyde, acrolein, lead, and tobacco-specific nitrosamines in addition to nicotine.
"These chemicals are toxic and are particularly dangerous for children," said Jean O'Connor, director of Health Promotion and Disease Prevention for DPH. "Parents should not allow children to handle electronic cigarettes or similar devices. They contain liquid chemicals which, if swallowed, could cause serious health complications."
Between April 2009 and April 2014, there were 1,169 calls made to the Georgia Poison Center for exposure or poisonings from products containing tobacco or nicotine. There were 46 calls made to the center from Jan. 1 to June 1 this year about nicotine poisonings, specifically from e-cigarettes. In 2011, there was a total of five calls for the entire year.
Nydam said parents, teachers, counselors and youth leaders should be aware that electronic cigarettes and similar electronic nicotine delivery devices are available in a variety of colors and flavors that are attractive to children and young adults, such as bubble gum, strawberry and chocolate. The products are made to look like pens and other small objects that can be hidden in backpacks and clothes. The emissions, although potentially toxic, may smell like the flavoring.
"There is no evidence that using current electronic nicotine delivery systems or being exposed to these products is safe, and the research suggests that these products may introduce children to lifelong nicotine and tobacco addiction," Nydam said.
The U.S. Surgeon General says tobacco use is known to cause cancer, heart disease, diabetes, and stroke. Nicotine is a highly addictive chemical that causes hardening of the arteries, which is associated with heart attack and stroke. Pregnant women should avoid using or being exposed to electronic nicotine. It can impact fetal development, affecting the brain, nerves and circulatory systems.
The only current safe and effective tools to quit nicotine and tobacco products are approved nicotine replacement therapy products, which contain controlled doses of nicotine.

The manufacturing of electronic nicotine delivery systems is currently not regulated by any state or federal agency so consumers are cautioned they may be exposed to varying levels of chemicals and contaminants in these products.
For help quitting tobacco or nicotine, call the Georgia Tobacco 24-hour Quitline:
For English: 1-877-270-STOP (1-877-270-7867)
For Spanish: 1-877-2NO-FUME (1-877-266-3863)
Hearing impaired: 1-877-777-6534
For more information, visit https://dph.georgia.gov.