'The Grove' marks 100 years
7/25/2014, 6 a.m.
Members of Greater Piney Grove Baptist Church will march into their new sanctuary on Aug. 2.
The Atlanta church is commemorating its 100th anniversary with the dedication of its new sanctuary. Celebrations throughout August include an anniversary gala. The church was organized in 1914.
The Rev. Dr. H. Beecher Hicks Jr., senior servant at the Metropolitan Baptist Church in Washington, will help the congregation commission the Frank Jones Memorial Chapel (formerly the old sanctuary) and enter into the new worship center during the 11 a.m. service.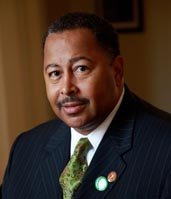 On Aug. 3, First Communion Sunday in the new worship center takes place at 7:15 a.m. with the Rev. Micheal Benton, senior pastor of Fairfield Baptist Church in Lithonia, and at 10:30 a.m. with the Rev. Dr. William E. Flippin Sr., senior pastor of Greater Piney Grove.
Flippin, who became its fifth pastor in 1990, has led the congregation at "the Grove" for the past 24 years. Under his leadership, membership has grown to more than 7,000.
The church is at 1879-1921 Glenwood Ave. S.E. For more information, visit www.pineygrovebapt.org.