It's a landslide for Sheriff Jeff Mann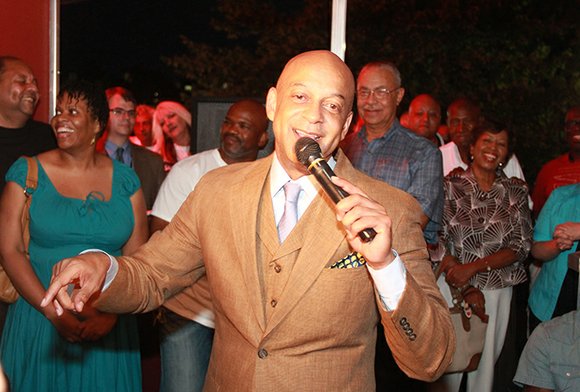 DeKALB COUNTY — DeKalb Sheriff Jeff Mann won his first election by a landslide on July 22, convincingly beating back challenger Vernon Jones.
At the end, negative campaigning by Jones, a former DeKalb CEO, that included advertising and mailers portraying Mann as a puppet on strings did not help him.
Mann won 76.4 percent of the vote to Jones' 23.6 percent. He got 40,537 to Jones' 12,553.
Mann carried 181 of the county's 189 precincts. In many precincts in the county's center and north, such as Fernbank Elementary and Druid Hills High in Atlanta and Austin and Dunwoody Library in Dunwoody, he took 96 percent and more of the vote.
The eight precincts that Jones won in close voting were Cedar Grove Middle, Columbia Middle, and Flat Shoals and Meadowview Elementary in Decatur and Fairington Elementary, Lithonia High and Redan-Trotti Library in Lithonia.
Jones, who has tried repeatedly and unsuccessfully to get elected to another public office since leaving the CEO's office seven years ago, carried those precincts with margins of 50.4 percent to 57.4 percent of the vote.
At the Covington Highway Library, both candidates equally split the 16 votes cast.
Before he was appointed to the office by outgoing Sheriff Thomas Brown in February, Mann, a lawyer and former DeKalb assistant county attorney, was the Sheriff's Office second-in-command for 14 years.
Claiming his victory on election night, Mann told friends, family members and supporters who gathered at Marlow's Tavern at the Northlake Doubletree Hotel that he loved all his supporters from North and South DeKalb, Republicans, Democrats, blacks and whites.
"This is a DeKalb County that is inclusive of everyone," he said. "My administration is going to support the inclusion of everyone across DeKalb County because we all have a common goal to make sure that DeKalb County is strong again."
Mann thanked his volunteers who he said carried him this far.
"There are too many to name," he said, calling out names to cheers from the standing-room-only crowd.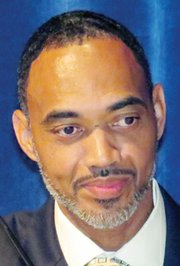 Mann also thanked interim CEO Lee May and eight of the 10 mayors from cities in the county who gathered to support him the day before the election.
In other races
In the DeKalb School Board races, District 3 incumbent Dr. Michael Erwin took 58.8 percent of the vote to beat back a challenge from businessman Atticus LeBlanc. In a statement Wednesday, LeBlanc said he reached out and offered congratulations to Erwin and thanked him for running a strong race.
He said he will continue to be involved however he can to improve communities and schools.
"I would encourage all my supporters to remain engaged and willing to make a difference," he said.
In a hard-fought battle in District 4, incumbent Jim McMahan triumphed over Dr. Karen Carter with 57 percent of the vote.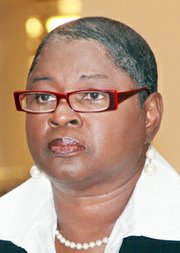 In District 5, private school founder and operator Vickie Turner took the seat from incumbent Thad Mayfield with 59.4 percent of the vote.
In the battle for the Democratic nomination for state school superintendent, Valarie Wilson won DeKalb with 62 percent and took the state with 54.4 percent of the vote over state Rep. Alisha Thomas Morgan.