May to recap year in CEO's office
7/25/2014, 6:34 a.m.
Business leaders, residents and other community stakeholders can hear DeKalb interim CEO Lee May reflect on his year in office and present his outlook for 2015 on July 30 at the DeKalb History Center in Decatur.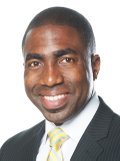 "A Retrospective Look Back, A Progressive Move Forward," presented by the DeKalb Chamber of Commerce Foundation and McKenna Long & Aldridge LLP, begins at 11:30 a.m.
May, the District 5 commissioner, was appointed interim CEO on July 16, 2013, after Gov. Nathan Deal removed CEO Burrell Ellis from office when he was indicted on theft and racketeering charges for allegedly shaking down county vendors for campaign contributions.
The event is billed as a "candid conversation," and May will recap his year as interim CEO and discuss progress and changes for the upcoming year.

The DeKalb History Center is in the historic DeKalb Courthouse at 101 E. Court Square. For more information, visit www.dekalbchamber.org/upcoming-event or call 404-378-8000.