Authors to discuss story of a 'Lost Boy'
6/6/2014, 6 a.m.
Co-authors Estelle Ford-Williamson and Majok Marier will discuss "Seed of South Sudan: Memoir of a 'Lost Boy' Refugee" at First Baptist Church Decatur and at the Clarkston Library next week.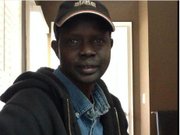 The book chronicles Marier's struggle as a child to survive during the civil war that orphaned thousands of children and sent them on an odyssey across the African desert between 1983 and 1987.
The talk takes place from 7 to 9 p.m. on June 12 at First Baptist and from 3 to 4 p.m. on June 14 at the Clarkston Library.
Marier, from the Agar Dinka tribe, was 7 when war came to his southern Sudan village. It killed 2 million people and displaced 80 percent of the South Sudanese population.
Tens of thousands of boys like Marier fled from the Sudanese Army, which wanted to kill them. They survived on grass, grains, and help from villagers along the way. Marier walked nearly a thousand miles to a refugee camp in Ethiopia.
He and 3,800 boys were brought to the United States in 2001 while the civil war still raged.
Now a plumber's apprentice in Atlanta, Marier is working for improvements in South Sudan villages.
Ford-Williamson, a former UPI reporter, has published two anthologies of recollections of the civil rights era. She also is the author of "Abbeville Farewell: A Novel of Early Atlanta and North Georgia." She writes and teaches in Atlanta.

First Baptist Church is at 308 Clairemont Ave. in Decatur.
The Clarkston Library is at 951 N. Indian Creek Drive in Clarkston. Visit dekalblibrary.org for more information.