Boyfriend indicted in toddler's death
6/6/2014, 6 a.m.
Nicholas Clarence Wade, who allegedly struck an 18-month-old toddler in the abdomen and killed him, was indicted by a DeKalb grand jury on June 3.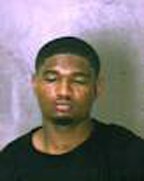 He is accused of striking Keon Belk in the abdomen "with an object" on Feb. 3, causing severe liver damage that led to the child's death.
Wade, 22, faces felony charges of malice murder, murder, cruelty to children, aggravated assault and aggravated battery.
Sheriff's deputies took him into custody on Feb. 5 after a standoff at New Birth Missionary Baptist Church in Lithonia.
He was shot after pulling a sawed-off shotgun and pointing it at deputies.

Wade, who is not the toddler's father, was dating the child's mother, Jillian Belk.
DeKalb District Attorney Robert James said the indictment outlines a senseless and brutal attack on an innocent and defenseless child.
"It is truly a tragedy anytime a child loses his life in this manner," he said.
Wade's arraignment date has not been set.
Assistant District Attorney Lee Williams will serve as lead prosecutor.