Long recovery for man wounded by burglars
Ken Watts | 6/6/2014, 2:15 a.m.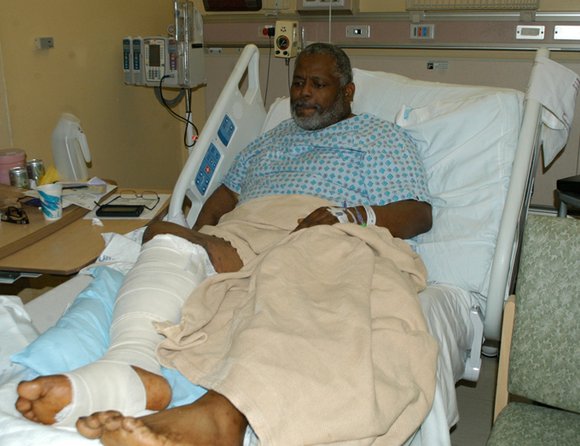 May 3 was just a normal working day for Amos King, a self-employed process server.
The retired U.S. Army lieutenant colonel and former Greenforest Academy high school basketball coach and history teacher had divorce papers to serve at a house on Post Road Pass in Stone Mountain, not too far from the home where he has lived for 23 years.
King knocked on the door of the nice two-story, wood-frame house and stood waiting for an answer. Unknown to him, a burglary was in progress at the home.
"A guy came around from behind the house with a gun, his face covered by a bandana," King said. "He pointed the gun at me and told me to open the door. I told him I didn't live there and was just delivering some papers.
"About then, another guy came around from behind the house with a gun and stepped up to the porch. The first guy said, 'I'll shoot you,' and slapped me upside the head with his pistol."
King jumped over a front porch railing to escape his attackers. The first assailant fired a single shot, hitting King in the right leg. The bullet ripped through the back of his right knee and a major vein before exiting out the side of his leg.
DeKalb Police said King interrupted two or three burglars who had stacked up stolen electronics inside the front door.
Surveillance video shows the suspects' car speeding away from the scene. Investigators are working the case but have made no arrests.
Bleeding profusely, King dragged himself to the driveway and yelled for help.
A month later, he is still hospitalized at Grady Memorial Hospital.
"When I came in here, I had lost a lot of blood," he said on June 2, his heavily bandaged leg poking out from under the bedcovers. "They didn't think they could save my leg."
At the sound of the gunshot on May 3, a woman next door dialed 911. The neighbor said the 911 operator advised her not to get involved.
King, 52, said that's when his military training kicked in. He ripped off his shirt, intending to use it to stop the bleeding.
"I didn't panic," he said. "I made a tourniquet and the lady's son came and helped me tie it."
But he could feel himself going in and out of consciousness.
"The last thing I remember was yelling out, 'Jesus, please don't let me die here alone,' " he said.
Nineteen units of blood and six surgeries later, he still has his leg but faces months of physical therapy and a long recovery.
"Grady has done a tremendous job in saving my leg," he said Monday, his voice tense with pain but steady.
King was scheduled to start physical therapy this week. He said he is angry about what happened to him but glad to be alive.
"This did not happen in a bad neighborhood," he said. "These were nice houses."
King hopes his story will help motivate the community to find ways to stop violent crime.
"I just wanted to bring attention to that [Stone Mountain] neighborhood and let people know that these types of things are taking place," he said. "If I hadn't come forward, a lot of people might have never even known that it happened."
King, a father of five, retired from the U.S. Army twice, the first time in 1993. He taught at Greenforest from 1995 to 2000 when he left to start his process-serving business. The Army reactivated him in 2004 to help deploy troops and equipment to the Iran and Afghanistan wars. He retired for good in 2011.
He is hopeful he will regain full use of his right leg.
"The swelling has gone down," he said. "The doctors think I'll be able to walk as soon as I recover some strength in my leg. That'll be a blessing."
Will he return to his process-server job?
"That's the million-dollar question," King said. "I don't know. Every day I've been thinking about that."