Two suspects charged in shooting death of 9-month-old
Ken Watts | 6/6/2014, 6 a.m.
Two men accused in the shooting death of 9-month-old Kendarius Edwards Jr. are behind bars.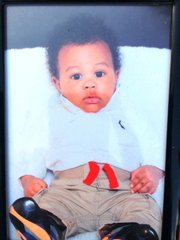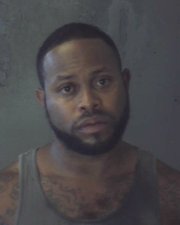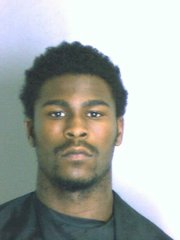 DeKalb Police said Thursday that Devin Thomas, 18, and Marco Watson, 36, were arrested for the baby's death and for shooting his grandmother, Tracy Smith; his mother, Tanika Smith; and her best friend in a home invasion on May 10 on Lani Farm Road in Stone Mountain.
Tanika Smith, wearing a bandage on her left cheek and black patch over her right eye, spoke to WSB-TV after the suspects' first appearance Thursday before a DeKalb County judge. She said she is really grateful to the police for the arrest.
"They told me when I was in the hospital that they [would] find my baby's killers and they have," she said.
Her mother said the arrests were "a big ol' relief."
"It's just a burden off my family," Tracy Smith said. "Help us get these monsters off the street. They killed my grandbaby. Your baby might be next."
At a news conference about the arrests, Public Safety Director Cedric Alexander said the two men are charged with murder and three counts of aggravated assault.
"At this point, we know these two were there," he said.
Alexander declined to say which suspect allegedly fired the fatal shot.
"Detectives traced leads, working around the clock nonstop to find justice in the death of the young child and also the women who suffered wounds trying to protect the baby that night," he said.

Alexander said the investigation is still open and detectives don't know whether anyone else was involved.
Watson was in jail charged with a probation violation and Thomas was locked up on a charge of making a false statement.
The death of the baby was part of a string of fatal shootings that started on May 3 after a brawl at a house party at the Mountain Lake Apartments on North Hairston Road in Stone Mountain. Michael Phillips, 29, was killed in that incident.
A week later, 19-year-old Alexis Malone, believed to be a witness in the Phillips shooting, was found shot to death at a park on Agape Way in Decatur.
Alexander said investigators have reason to believe that Thomas may have been a friend of Malone's and the May 10 home invasion a retaliation for her death.
Two suspects have been charged in Malone's death.
A coalition of DeKalb pastors offered a $7,000 reward for information leading to an arrest in the baby's death, but Alexander said the reward did not lead to the charges against Watson and Thomas. Investigators are still seeking information from the public.
Alexander said they're being careful with information so as not to divulge specific details that led them to the suspects.
"We want to make sure we get any and all who had anything to do with the planning and execution of this attack, the horrific death of this child and the injury of those women that night," he said.