Long time Police Chief Bobby Burgess dies at 83
6/9/2014, 11:53 p.m.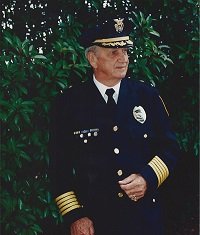 Robert "Bobby" Theron Burgess, Sr.,the longest serving police chief in DeKalb history, has died.
The Stone Mountain native joined the police department in 1957 as a patrolman and was chief for 22-years until his retirement in 2001.
Burgess died June 6 of natural causes, DeKalb police spokeswoman Mekka Parish said Mopnday. He was 83.
Burgess was known for being tough but compassionate with his officers and for his extensive knowledge of his family's long history in DeKalb.
"Generations of Burgess men were in the DeKalb County government and he was really proud of that — since the late 1800s — and he continued the tradition," said DeKalb police Lt. Tom Reiner, who knew Burgess for more than 25 years.
Robert "Bobby" Burgess Jr. said his father had "an extreme love for DeKalb County" and its history. The younger Burgess said his father could tell their family's entire history since they came to DeKalb in the early 1800s and knew almost every detail of the last 80 years of DeKalb.
DeKalb Interim CEO Lee May called Burgess' long service to the county an inspiration.
"Bobby Burgess was a good man whose life was guided by a deep and abiding faith and a commitment to public service. His incredible 45 years in DeKalb County spanned five decades. He meant a great deal to us all and served as an inspiration with his ongoing efforts to give back and improve his community, about which he cared so deeply," May said in a statement.
Board of Commissioners Presiding Officer Larry johnson said Burgess' top priority was the safety of the people.
"Bobby Burgess was a hands-on leader who cared deeply about DeKalb County," Johnson said. "Throughout his years of service he was always full of energy and willing to do whatever was needed to keep DeKalb residents safe. He was a tremendous community servant who will be sorely missed."
Former CEO Liane Levitan who first met Burgess in 1973 called him a natural leader who ran a tight ship.
"He always fought to ensure that DeKalb County had the best-equipped police force. My thoughts and prayers remain with his family during this difficult time." said Levitan.
Burgess is survived by his wife, Shirley Burgess, three sons, Robert Theron and Kathy Burgess Jr. of Dacula, GA, Joel S. Burgess of Decatur, GA, David B. and Kayren Burgess of Dacula, GA; two stepdaughters, Sandy Pendley, Terry Pendley; stepson, Robby Lanier; 7 grandchildren; 3 great-grandchildren.
Funeral services will be held on June 10 at 11:00 am at the Avondale First Baptist Church, with Dr. J. Truett Gannon, officiating burial will follow at Melwood Cemetery in Stone Mountain.