Actor-activist Ruby Dee dies at 91
6/13/2014, 7:05 p.m.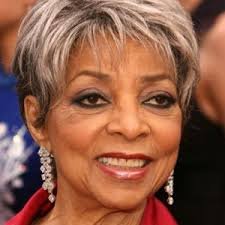 Acclaimed stage, film and television actress actress Ruby Dee, who was also a notable figure in the civil rights movement, has died. The actress, who was 91, passed away peacefully on June 11 at her home in New Rochelle, NY surrounded by her family, a friend said Thursday.
"She died of natural causes," said Arminda Thomas, who works for Dee's family. "She was blessed with old age."
Dee was born Ruby Ann Wallace on Oct. 17, 1927 in Cleveland, the daughter of a train porter and a schoolteacher, and was raised in the Harlem section of New York City.
She attended Hunter College in New York, then joined the American Negro Theater in 1941 before making her way to Broadway.
The petite actress was nominated for an Oscar in 2008 for her role in "American Gangster." After being nominated for six Emmys, she nabbed the award in 1991 for her role in the TV movie "Decoration Day."
Other awards in Dee's long career included a Grammy, two Screen Actors Guild awards, the NAACP Image Award, Kennedy Center Honors, the National Medal of Art, and the National Civil Rights Museum's Lifetime Achievement Award.
Dee broke free from the racially stereotypical roles often given to black actresses when she began her career in the 1940s and continued to act into her 90s.
Dee made her Broadway debut in the original production of "South Pacific" and in 1959 starred in the Broadway premiere of "A Raisin in the Sun," Lorraine Hansberry's landmark play about black frustration amid racial discrimination, opposite Sidney Poitier. Both reprised that role in the film two years later.
She was married to fellow actor Ossie Davis for 56 years until his death in 2005. The couple, who had three children, formed one of the entertainment world's most productive and enduring artistic and activist partnerships. They performed together in plays and films and appeared together at some of the seminal events of the turbulent civil rights era.
Dee and Davis were friends with barrier-breaking baseball star Jackie Robinson and his wife, Rachel — Dee played her, opposite Robinson himself, in the 1950 movie, "The Jackie Robinson Story" — and with the Rev. Martin Luther King Jr. and Malcom X. Both spoke at the funerals for King and Malcom X.
They denounced Senator Joseph McCarthy's anti-Communist crusades of the 1950s and were blacklisted for a time. They also were investigated by FBI chief J. Edgar Hoover's agents. They counted civil rights icons Martin Luther King, Jr. and Malcolm X among their friends and took part in marches for racial equality in the South.
Dee and Davis were emcees of the landmark 1963 March on Washington where King gave his "I Have a Dream" speech. The couple were honored in 2004 at the Kennedy Center in Washington for their lifetime contributions to theater, TV and movies, as well as their advocacy for equality.
The Center recognized Ruby Dee and Ossie Davis as "two of the most prolific and fearless artists in American culture," stating: "With courage and tenacity they have thrown open many a door previously shut tight to African American artists and planted the seed for the flowering of America's multicultural humanity."