Effort afoot to name ballfield for beloved coach
Ken Watts | 6/13/2014, 5:46 a.m.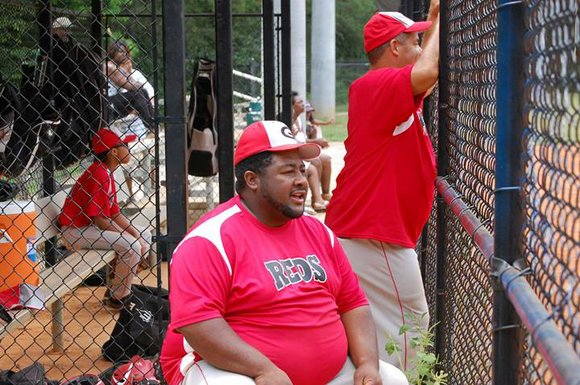 Pedro "Big Poppa" Sanders, who died suddenly a year ago, was a dedicated baseball coach at Browns Mill Park in Lithonia.
Now on the first anniversary of his untimely passing, friends, family and parents want the 13/14 baseball field, where he gave so much and shaped so many young lives, to be named the Pedro A. Sanders Memorial Field.
Over the 13 years that he volunteered at the popular youth baseball facility on Browns Mill Road, the 36-year-old Sanders, who died June 4, 2013, of a heart attack, worked with more than 150 youths.
Jonasha Sanders, who was married to him for 13 years, said he lived and breathed the sport and taught his players everything he knew about the rules, challenges and nuances of the national pastime with the full knowledge that the discipline would carry over in a positive way into their daily lives.
"I'm proud that he not only was a great father to my children but was also able to be a mentor to underprivileged boys who didn't have a father figure in their lives," she said.
On June 7, more than 40 players, parents, supporters and friends joined Sanders' widow and his three children – Jonnethan, Morganne and Bryson – at the park to remember the beloved coach.
They played games, enjoyed entertainment, and shared food and memories of Sanders.
Lithonia Mayor Deborah Jackson read a proclamation declaring June 7 Pedro A. Sanders Day in Lithonia.
Jackson said that Sanders understood the importance of parental and community involvement.
"Coach Sanders was a firm believer in the capacity of our youth to be successful with the right support and nurturing," she said in the proclamation.
Shayla Amos of Lithonia said Sanders had a powerful influence on her nephew, whom she helped raise.
Raheem Collier, now 16 and a rising junior at Martin Luther King Jr. High School, played third base and catcher for Sanders' teams in the 2011, 2012 and 2013 seasons.
"Raheem lost his father when he was 5 and coach Sanders stepped up to become a father figure for him. One time I heard coach tell Raheem that being a man means taking responsibility and doing the right thing. He gave Raheem a positive outlook as he was entering his teens."
Sanders, a 1996 graduate of Lithonia High School, was a lifelong resident of Lithonia. He was the owner of SuperKlean Waterworks, a mobile car detailing and pressure washing business.
With basketball and football dominating pop culture and attracting most African-American athletes, Sanders was known for his love of baseball. He coached the sport at Browns Mill from 2000 until his sudden death.
In 2012, he founded the Georgia Reds Youth Association that included four teams for ages 5 to 16. A year later, he launched the Georgia Red Hots, a women's kickball team, made up of some of the mothers of the team members. That team helped the women to become more active and embrace a healthy lifestyle.
Jonasha Sanders said her husband was on the phone scheduling a tournament when the heart attack struck and robbed the community of a man who cared deeply about kids and the betterment of the park.