Final leg of Arabia trail opens
6/13/2014, 7:06 p.m.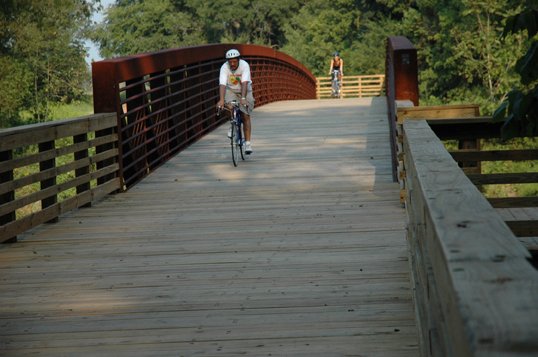 Bicycle riders can now pedal from the city of Lithonia to the Monastery in Conyers with the completion of more than 30 miles of the Arabia Mountain PATH trail.
The final leg of the hike/bike trail that meanders through the Arabia Mountain National Heritage Area will officially open on June 14 with an 8 a.m. ribbon-cutting ceremony at the Monastery of the Holy Spirit, 2625 Highway 212 S.W. in Conyers.
The trail, built by the PATH Foundation with a mix of public and private partners including Georgia State Parks, the city of Lithonia, DeKalb County, Rockdale County, the Georgia Department of Transportation, and the monastery, took 12 years to construct.
Mera Cardenas, executive director of the nonprofit Arabia Mountain Heritage Area Alliance, said that after the ribbon cutting, the community can celebrate the culmination of the 12-year project with activities from the monastery to the city of Lithonia.

"This is a wonderful time of year to explore the trail," she said. "Even if you have been here before, there are new sections just completed and discovery awaits around every twist and turn."
Activities include a 38-mile bike ride that will leave from the monastery, and walkers, hikers and explorers of all ages can join activities at each of the trailheads and historic sites. There will be scavenger hunts, nature identification games, free bike rentals and kayak rentals, and geocaching, a high-tech scavenger hunt.
There also will be a bike repair workshop and a South River fish display.
The Davidson-Arabia Mountain Preserve is hosting a Family Day from 10 a.m. to 2 p.m. at 3787 Klondike Road in Lithonia. There will be nature walks, face painting, inflatables, bubble stations, arts and crafts, and Zumba.
For more information, visit www.arabiaalliance.org.