Free Kinsey Collection viewing on June 21-22
6/13/2014, 5:48 a.m.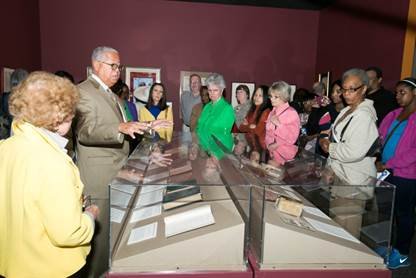 Black history buffs and families who want to expose their children to their heritage can see rare documents and artifacts at the Atlanta History Center on June 21-22 free of charge.
It will be the final Free Admission Weekend, sponsored by Wells Fargo, when families can view "The Kinsey Collection: Shared Treasures of Bernard and Shirley Kinsey, Where Art and History Intersect" without paying the museum's fees.
The exhibit, which chronicles 400 years of African-American art and history, is on display through July 13.
The eye-opening 130-piece exhibit comes from the private collection of art, books and manuscripts that document the story of African-American triumphs and struggles from 1604 to the present. Bernard Kinsey, a former Xerox Corp. manager, and his wife, Shirley, a former elementary school teacher, amassed the collection over decades.
The collection includes first-edition copies of Solomon Northrup's "12 Years a Slave" and W.E.B. Du Bois' ground-breaking "Souls of Black Folks."
There is also an early version of the Emancipation Proclamation and stories of blacks who wrote books and held high positions during slavery and after.
It includes the earliest known African-American marriage record dating back to 1598, a 1773 first-edition of Phillis Wheatley's poems, letters between Malcolm X and Alex Haley and by Zora Neale Hurston and Dr. Martin Luther King Jr.
It features fine art by luminaries like Henry O. Tanner, Elizabeth Catlett, Lois Mailou Jones, Richard Mayhew, Jacob Lawrence and Romare Bearden.
Since it opened on April 5, more than 1,200 people have viewed it.
The Kinsey Collection, one of the world's largest private collections of African-American artifacts, documents and artwork, has been on national tour since 2006. It has been on exhibit in dozens of museums, including the Smithsonian National Museum of American History and Epcot at Walt Disney World.
The Atlanta exhibit commemorates the Civil War Sesquicentennial and the 50th anniversary of the passage of the Civil Rights Act.
The Atlanta History Center is at 130 W. Paces Ferry Road N.W. in Atlanta.
For more information, visit www.atlantahistorycenter.com/Kinsey.